Finding a Christmas gift for a family can be tricky. Since everyone has different interests, it may take some time and effort to figure out something that everyone will enjoy. But don't worry—we've put in some work and have come up with a list of 20 Christmas gifts for the whole family. We've got both gift ideas and experiences to choose from. We hope you find the best gifts to help you make your way through your shopping list this holiday season.
---
1. Adventure Book
Give the gift of adventure with Adventures From Scratch: Family Edition. This interactive book has 50+ adventures to choose from—an entire year's worth of epic activities! With sections like "Cook," "Get Silly," "Discover," and "Create," it suits many ages, preferences, and personalities. A helpful key on each page will clue you in on the duration, expense, and necessary supplies. It's the perfect gift for explorers and any family who wants to add a little excitement to each day!
2. Family Portrait
A personalized portrait is a charming way to show your favorite family how much they mean to you. These days, it's fairly easy to commission an artist online to paint a custom portrait from a picture. If you want to get creative, opt to customize and personalize the portrait to make it resemble cartoon or movie characters. To make things even funnier, you can print the portrait on merchandise like t-shirts, mugs, or Christmas ornaments. There are so many options!
3. Family Picture Frame
Speaking of family photos, what good are photos if you can't find a place to hang them? Family photo frames come in all shapes and sizes, so you're certain to find the perfect one to gift. If you're looking for something to place on the mantle, this rustic collage frame is a great bet. In case you want to hang something on the wall, how about a stunning puzzle-style frame with intricate detailing? Or if centerpieces are your thing, you'll love this family tree photo frame, where each photo is flanked by metallic leaves dangling in the wind. Before you click some family photos, try some indoor crafts together to get some serious bonding done!
4. Scrapbook Making Kit
Help a family create new memories with this 8.5-11″ DIY Scrapbook Photo Album. They'll be able to document special occasions and celebrations throughout the year. Place photos, postcards, handwritten notes, within the pages of each binder, so you can shuffle and add pages at will. With 30 pages of paper, tape, and stickers in-store, this kit is a fantastic start to a keepsake they'll have for years to come.
5. Air Hockey Game
Bring the pub games home with this tabletop air hockey game is a great way to add some joy and excitement to family game night. This kit comes with pucks, paddles, an electric blower to keep the games going. An LED score screen helps you keep track of points. Since this is a tabletop kit, it does not need any assembling instructions. Made of wood and painted with colorful hues, this will add a dash of fun to your dining area.
6. Pizza Making Set
Turn mealtime into something epic with this pizza set. While making pizza at home is easy, getting it to restaurant-level quality is tricky. This is where a pizza-making stone can help. A ceramic pizza stone retains heat, making your crust crispy and flavorsome. The pizza peel will have you feeling like an Italian chef as it will help you place the dough seamlessly on the stone. The stainless steel blade will ensure a perfect cut and is much better than a pizza wheel. The stone is versatile because you can use it for cookies and pies too. The entire family will enjoy this delicious kit!
7. Candle-Making Kit
This candle-making kit is a must-have for families who take relaxing seriously. With this kit, the entire family will be able to make candles for themselves (they can gift them to each other too). Each kit comes with a pouring pot to heat the wax, and six fragrances. There are six colorful dyes to choose from, which means every family member will be able to customize something to their liking. Kids can contribute by choosing the color and fragrance. The kit is beginner-friendly; all you need to do is heat the wax in the microwave and pour it away.
8. Karaoke Kit
Family night is incomplete without karaoke. This is why we love this karaoke mic. With special settings for effects and tunes, this microphone will take your karaoke night to the next level. To set up a fun karaoke night, make a playlist of your family's favorite songs and load them on a screen (a laptop, TV, or projector). Connect the mic to your phone through Bluetooth and let the jamming session begin. Available in a range of stunning colors, this hands-free mic will leave your entire family feeling like pop stars.
9. Mini Herb Garden Starter Kit
Give your family the green thumb by gifting them this mini herb garden kit. We recommend this kit for families with young children. Simple to use, this kit will help them get started on their gardening journey. The best part is that this kit is ideal for indoor herb gardens. This means you can gift it to families that live in apartments without a backyard. All they need is some patience and care to see their herb garden flourish. Since the kit has soil pellets and seeds, they don't need to put in much effort.
10. Scavenger Hunt Pass
When it comes to family time, the memories are what count. If you want to gift your family some great memories, why not send them on a scavenger hunt? Let's Roam's outdoor family scavenger hunts are hilarious, exciting, and wholesome all at once. These hunts will take your family around the most iconic landmarks of the city. In addition, they'll be able to solve riddles and puzzles and answer trivia to collect points. They can monitor progress on a live leaderboard too. Scavenger hunt vouchers can be redeemed in any available city, so they can choose from a list of hundreds of places around the world. Alternatively, you can purchase an annual family pass.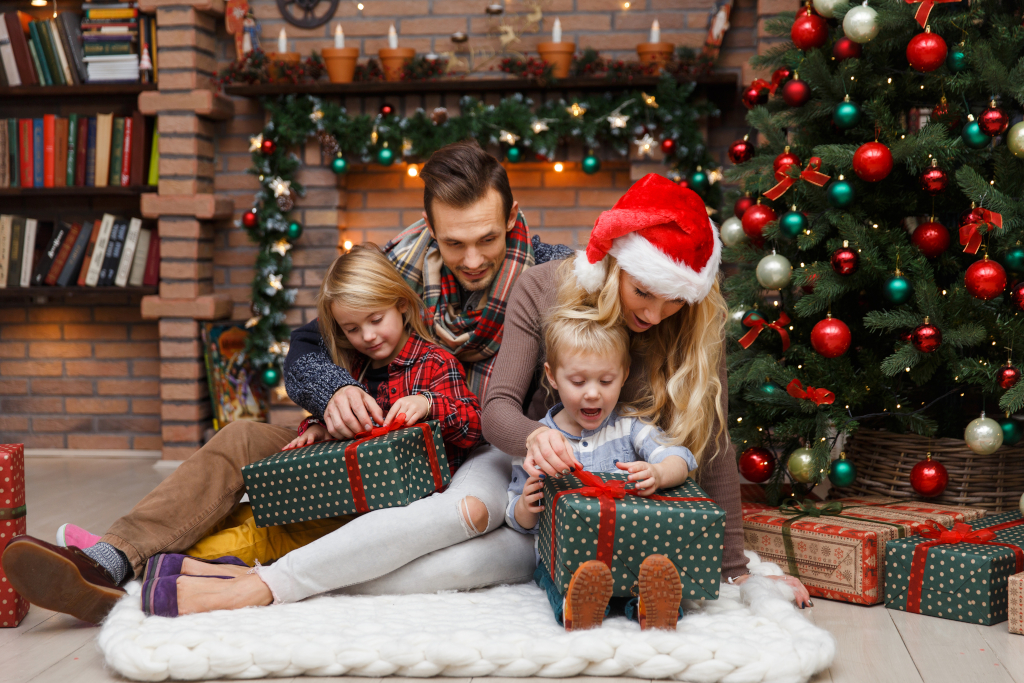 11. Snoopy Snow Cone Machine
The next few items on our list are retro family gift ideas. Anyone who remembers the original Snoopy Snow Cone Machine can probably imagine the taste of its fruity shaved ice. This present will let you add tasty treats to any evening or warmer days outside. The Peanuts characters are classic and never fail to make "kids" smile, whether they're 1 year old or 80 years young!
12. Twister
Twister has been a family favorite since the 60s for a reason. This hilarious game is sure to get some laughs every time. If you want to encourage some family bonding and quality time, Twister will help you. The premise is simple. Every player must stand outside a mat with colored circles. The players must then spin the color wheel. Depending on the colors on the wheel, each player must attempt to touch the colors on the mat. The more complicated and longer the game, the better. Kids are certain to have an epic time with this game!
13. Easy-Bake Oven
An Easy-Bake Oven was a bestseller in the 80s and is a favorite once again. This gift is ideal for families with kids and will take adults down memory lane. These ovens are easy and safe to use and will teach kids how to make simple cakes, cookies, and other delectable treats. Once they get started with these ovens, they'll want to help out in the kitchen in no time. To celebrate the holiday spirit, make snickerdoodle cookies together!
14. Scratch-Off World Map
For a family that loves to travel, this Scratch Map from Uncommon Goods makes a unique gift. Not only does it look impressive, but it helps families to document the places they've seen together. This piece comes with the entire map of the world overlaid with gold scratch-off paint. Whenever the family checks a new country off their bucket list, they can come home to scratch it off the map.
15. Matching Mugs
This charming personalized gift is an easy win for families. Matching mugs can be customized for families of all sizes. For instance, these mugs can be monogrammed with the family name or initials. Or choose a caption or saying that means something to everyone. If you want to make things more interesting, opt for this craft kit from Etsy.com. Here, each family member can paint whatever they want on their mug so that they can truly call it theirs.
16. Giant Checkers
If a family loves to bond over board games, you'll love this larger-than-life giant checker set. This unique with a foam mat ad extra-large pieces, this game can be played on the floor, the yard, or just about any space. Here's the best part – this board is reversible, and can be used as a tic-tac-toe mat too. If you're done playing checkers, just flip the mat to challenge your opponents to a game of tic-tac-toe. This is ideal for parents and children alike and can be played at the park while you go on a picnic.
17. Matching PJs
Every family must have a tradition around Christmas. If you want to make yours even more special, consider getting them a set of matching PJs. You can try some mom-approved games and crafts with your kids as you don these cute outfits. This adorable set of matching snowman pajamas are snug, comfy, and cute to look at. If you want something brighter, opt for these red snowman PJs, or this festive elf set. In case you prefer onesies instead, this buffalo plaid set should be perfect for you. There's a matching onesie for your dog too. Family photos incoming!
18. Paint By Numbers Set
Few things are as calming and soothing as art. This paint-by-numbers kit takes the cake! We love the concept of a paint-by-numbers kit. You don't need to have any experience to blend colors or pick the right tones. That's all done for you. In addition, you'll also be able to experience the joy of a blank canvas coming to life. Since the kit offers instructions on where to apply which color, kids in the family can do it too. This is a wonderful starter kit for budding artists. We recommend giving one kit per family member so that everyone can paint together.
19. Outdoor Activity Items
If there's an active family on your list, or friends who want to get more active, consider outdoor play items as Christmas gift ideas. An inflatable pool might be a wonderful gift for warm-weather dwellers or go a bit more conservative with bubble wands for the yard. A basketball hoop can transform a driveway into a court. Equipment is always a hit with sports-loving families. Horseshoes, corn hole, ladder toss—they all make great gifts!
20. Virtual Game Night Pass
When you have family around the world, connecting with all of them at the same time can be challenging. This is where a virtual game night can help. Let's Roam's Virtual Game Night enables you to play games and bond with family anywhere in the world. All you need is a voucher code, an internet connection, and a smart device. The seamlessly embedded video chatting software is a breeze to use. With new games added every week, your family will love the games and puzzles. There is something for everyone, both kids and adults!
---
Closing Thoughts
Most of our family Christmas gift ideas are available on Amazon or other online retailers, so you should be able to find them fairly easily. If you can't, just ask Alexa!
Remember that holiday shopping is as fun as you make it and the best family gift is always one from the heart. Try not to stress! When in doubt, opt for a copy of Adventures From Scratch: Family Edition. This thoughtful gift keeps on giving. It's got a new surprise on every page. You might want to pick a book up for yourself, as well!
---
Frequently Asked Questions
What are good holiday gifts for families who love the outdoors?
It's tough to pick a gift that will please every member of the family. Consider a scavenger hunt annual pass, an inflatable pool, or a basketball hoop. Check out this family gift guide for more ideas.