Kids thrive when they are out, amongst friends, and playing 'til their hearts are content. However, there are times when they have to stay at home due to bad weather conditions, health issues, or a global pandemic like we've recently seen. So what can parents and guardians do to keep children engaged? We've uncovered the very best activities for kids at home!
We've got indoor activities, options for the yard, and even some educational experiences. These ideas will work with younger kids and children who are a bit older. They're great for social distancing or when you have some little visitors. Best of all, every item on our list is budget-friendly and mom-approved!
---
Enjoy Unique and Exciting Family Adventures
If you're looking for something a little different—something the whole family will enjoy—look no further than Adventures from Scratch: Family Edition. This book is chock-full of ideas, all from the minds of expert explorers who know what kids like to do! It's been touted as a boredom buster and has tons of activities for kids at home or out and about. Each adventure is hidden under a coating that you can scratch away whenever the mood strikes. There's also a key that offers helpful hints, so you'll at least be able to decipher some info about each activity and won't be stuck outdoors in the rain or trying to rush a long activity if you've only got a short time available. It's the perfect companion for days stuck at home or when everyone wants to get out of the house and explore. Don't hesitate! Grab your copy today.
---
1. Create an obstacle course.
A super fun outside-the-box activity that my children love (and request often) is an obstacle course. Think the floor is lava but bigger! We use painter's tape to create an obstacle course that
takes them over, under, and around the furniture with different stations or tasks (such as hopping or crawling) along the way. An obstacle course keeps them moving and taps into their creativity when they join in on the design! It's an activity that kids of all ages can enjoy, from preschool age up to big kids, and can be done indoors on a rainy day or outside in the fresh
air.

—Amanda Seghetti, Healthy Parenting Blogger
Obstacle courses are incredibly fun and easy to set up using common materials. Furniture, painter's tape, or just about any objects can be arranged in a way that makes getting from "point A" to "point B" more difficult. Set up a pillow section to hop through. Use string or tape across chairs and have the kids go under it. There are plenty of different obstacles and configurations!
For an outdoor course, use sidewalk chalk (like you'd use for hopscotch), pool toys, inner tubes, or random things found in the garage or shed. Incorporate natural items if you can—sticks, rocks, piles of leaves, etc. Use whatever you have available to create diversions and watch the children think and maneuver their way from start to finish.
2. Have a picnic.
Another awesome activity you can do with the kids at home is to organize a picnic. Prepare some favorite snacks—this would offer a great opportunity for kids to pitch in. Pack it all up, whether you're picnicking indoors or out, and get ready for a good time.
If you're indoors, grab a tablecloth or blanket and lay it on the floor. Set yourselves up at a table or the ground if you're outside. Utilize this quality time to talk about life, school, or anything your hearts desire.
3. Go backyard (or indoor) camping.
Children usually love camping as they can be outdoors, explore nature, and have quality time. Gather your camping gear from the garage and pitch a tent in the yard. It's not the great outdoors, but you can still appreciate the change of pace.
One of the best activities for kids is to bring the camping experience home. It is certainly not possible to go camping whenever you feel like, but you can set up a camp in the garden or in your living room for kids to keep them entertained. Disconnect your kids from all the usual activities and digital devices and let them take this as a real camping experience.

—Eva Lerma, Cofounder, MyTravelTripod
If you don't have a yard, try porch camping or set up camp right in the bedroom or living room! Set up a small tent or use blankets and furniture to create the same effect. It's all about the experience.
Tell stories around a small campfire (if you can in your neighborhood) or make a faux fire with a stack of flashlights or some candles. You could even toast marshmallows and make a timeless camping treat using an inexpensive s'mores kit!
4. Compete in bean bag races.
Bean bag races can be a blast! Mark a course with painter's tape or, if you're in the yard, use common objects to mark the start and finish line. Grab a few bean bags or make some with some dry beans in small socks—no sewing required.
The object of the game is to get from one point to another while balancing a bean bag on a certain body part—like on top of the head, on the chin, or using only two fingers. It's not as easy as it sounds!
Each participant must get from the start to the finish line first. You can compete in a series of rounds or on different tracks, or make it a relay race if you have a big family. Add your own rules or challenges if you'd like. To make it more interesting, compete for a special reward or prize.
5. Get crafty.
One of the best activities for kids stuck at home is crafting. Keep all your art supplies in a cabinet with crayons, a cardboard box, free printable coloring sheets, paint boxes, and anything they might want to use to create when the mood strikes. Crafting is a great way to keep them occupied and indulge in their creative side. To get started, try these fun family crafts!
La Pittura Studio offers painting kits, including sneaker painting, superhero figurine painting, hat painting, and a paint drizzle kit. Opt into one of their virtual classes or follow along with their pre-recorded YouTube videos.
Leo Young, Founder and Editor of OptimizedFamily.com, recommends creating art using foam paint. It can be made at home with only 3 ingredients. Have your children paint a picture on cardboard and allow the foam paint to dry overnight. The following day, the kids will be amazed to see that their painting has evolved into 3D art!
Olivia Tan, Co-Founder of CocoFax, sent us a suggestion for making unique art using bits and pieces of old photos or magazine clippings.

Simply cut the head and neck of a giraffe from a photograph, or the trunk of a tree from a photograph. Glue the pictures to paper and let the youngsters finish the artwork with markers, crayons, or paint.

This game can keep all of the kids entertained at the same time as they work together to create something goofy and amazing. The first youngster begins by sketching a basic line or form, and the second grows by drawing another line or form that links to the first.
6. Play Penguin Waddle!
Inflate a few balloons and play penguin waddle. This game is hilarious with preschoolers! For this activity, each competitor must waddle across the room with a balloon tucked between their legs—without letting it drop. To make this game more competitive, make it a race. To increase the difficulty, consider pairing this with an obstacle course. Whichever way you choose to waddle, laughter is sure to ensue!
7. Get your children into gardening.
Every school teaches about being environmentally friendly and how we are indebted to nature. Start your teachings at home as you involve the kiddos in some gardening. Activities like planting trees, getting hands dirty, and learning more about nature have a significant impact on young children or kids at any age.
Gardening allows for learning about horticulture, ecosystems, life cycles, and nutrition.

—Lindsey Wander, Founder and CEO, WorldWise Tutoring, LLC
Plant a garden full of nutritional foods and combine it with cooking activities!
A favourite activity of mine that is often forgotten is getting kids involved with growing things. From simple seed planting to dedicating a special spot in the garden to growing anything from sunflowers to vegetables, encouraging your kids to get their hands dirty and growing things will offer them so many learning opportunities.

Children who do not have access to a garden can use pots on window sills and you can also get your kids to decorate the pots too, which adds an extra dimension to the activity.

Growing things you can eat is a great idea too, as kids will love to be able to cook or prepare and eat what they have watch grow.

—Paula McLaren, Norland Nurse, NNEB RSH, Teething to Tantrums
8. Dance away your blues.
Every adult needs a break from daily activities. Crank up the music and start a little dance party in the house. Get the kids to move to the beat (and not just giggle at you)! This is a great physical activity to loosen up the body and let the stress melt away.
9. Explore the yard.
When kids go outside, they don't always take time to notice all of the other inhabitants that share and our world. Point some out and see if you can spark their interest! And for those children who already enjoy looking at creepy crawlies, the garden is the perfect place to allow them to investigate.
For me, the best activity for kids at home is hunting for bugs and insects in the garden. This is not just a fun activity kids would like to engage in, but it will help them learn about different types of bugs and their natural habitat. Provide your kids with magnifying glasses and tell them that they're scientists and environmentalists looking to help the insects and plants live in harmony without hurting each other. Also, provide them with a list of bugs and insects that you know live in your garden, and ask the kids to mark the ones they find there. They'll love to explore the plethora of lives in the backyard and will learn a lot as well.

—Elizabeth Hicks, Co-Founder, Parenting Nerd
You could also introduce them to these activities for kids who love exploration.
10. Play card games.
Search for that deck of cards that have been lying in some forgotten cupboard. Card games are a sure way to keep kids of all ages occupied. Teach them easy games or even games they can play alone. This is can be a great learning activity too!
11. Go on a treasure hunt.
Another rainy day keeping the kids in? Instead of increasing their screen time, try a treasure hunt! Kids start appreciating treasure hunts at a very young age but continue to love this activity as they get older.

Make a list of items that your child can hunt for around the house—snacks, toys, small rewards, or anything that will motivate them to keep searching. That should keep the kiddos entertained for hours!
By having [kids] play an age-appropriate treasure hunting game, they can go on an adventure with you, use their critical thinking skills, learn, and explore.

—Mika Kujapelto, CEO and Founder, LaptopUnboxed
12. Decorate the bedroom.
Put your child's imagination to work coming up with ideas to change up their room. Let them map out a plan on paper or using design software and help them to move furniture into new spots, paint, and truly make the room their own.

Then, it's all about the decor. Think about different lighting options, art or posters, bobbles, beads, and other things that will make the room special. Consider a whole theme, if your child is really interested in something like nature, space, sports, or anything themable!
This can even be a homeschool budgeting lesson for older kids—have them work within a specified price range and see what they come up with! It will help them feel accomplished and give them a newfound appreciation for their space.
13. Put on a puppet show.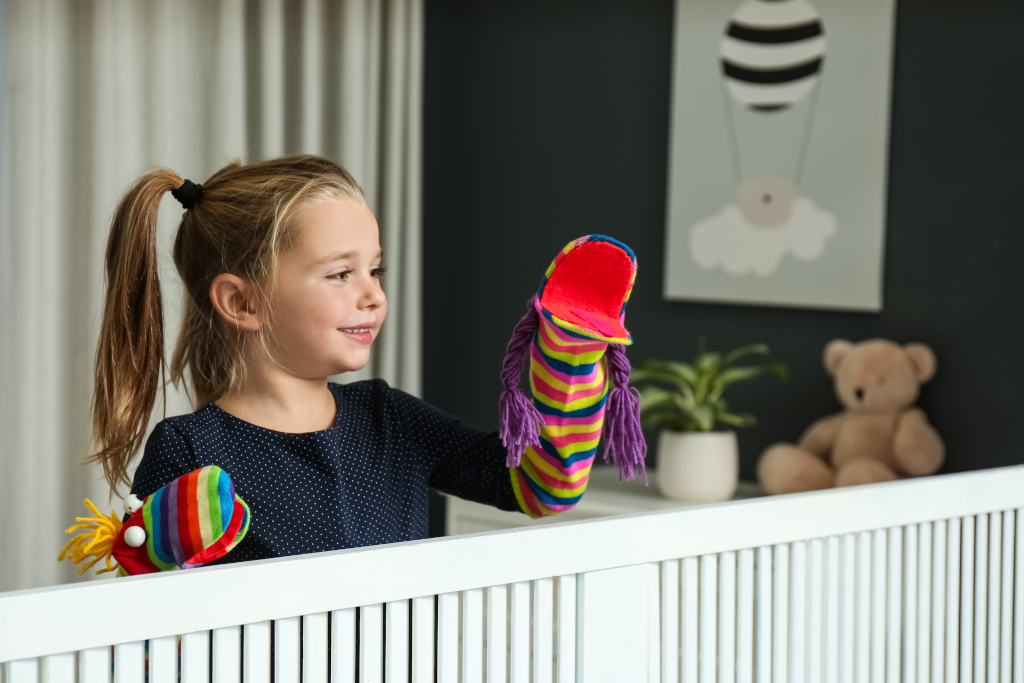 Puppet shows are timeless and just perfect for kids stuck at home! Children love to imagine stories surrounding their favorite toys. Make it a little more interesting by having the little ones perform a puppet show in the living room.
Grab some hand puppets, set up a theater, and get creative! This is a great way to build your child's imagination, and they'll have a blast coming up with their own stories to share with the family. Research suggests that puppet shows can also improve behavioral problems among children.

—Lea Culliton, President, HABA USA
If you can't purchase puppets, DIY puppets can be made the old-fashioned way—with socks and markers. If you want to get a little fancier, use hot glue to add yarn pom poms or other little embellishments. Children can use doll clothes to create a puppet wardrobe.
When it comes to puppet making, kiddos could use just about anything, from toilet paper roll puppets on popsicle sticks to magazine clippings or printouts glued to cardboard and mounted on rulers. Even stuffed animals will do!
Stages can also be made in a pinch! Use furniture or just have the little ones set up their production behind the couch while the audience is seated to face the show. There are so many options! Every possibility is sure to give your children (and you) an experience no one will forget!
14. Play charades.
Charades is the perfect way to keep the whole family entertained, especially if you have tweens or older kids at home. You could write down the names of movies, landmarks, book titles, or other things that can be acted out and let each "actor" pick from a hat. The rest of the family can guess what they're trying to convey.

If you have a very large family, make it a team sport! Break into opposing sides and compete for a prize or bragging rights. Charades is one of our favorite kids' activities! It's always a great time, even for the adults!
15. Cook or bake together.
The best and most fun activity that you can share with your child is to let them experiment on food and assist you in cooking. It lets them discover different kinds of flavours and textures that they are unfamiliar with. This is the best type of bonding that you can share with them, as when they grow older, they will realize the importance of knowing how to cook and put food on the table.

—Rowena Murakami, Co-Founder, Tiny Kitchen Divas
Kids tend to love activities that make them feel like they are contributing to the home. A huge part of running a household is to make meals for everyone in the family. Instead of taking all the burden on yourself, involve the children.
Grab your favorite recipe and whip up something delish! Not only will you get to teach your kids about measuring and how to follow a recipe (both great life skills), but you'll also get to eat brownies (or cake or cookies or muffins) when all is said and done. #winwin

—Nikki Oden, Founder & Creator, Your Ideal Mom Life
Start with a simple recipe and watch them find their way around the kitchen. Of course, you can help with the oven bits. Make a simple meal or have them whip up a cake or a batch of cookies. Decorating with icing tends to be a children's specialty. If they enjoy themselves, this can become a weekly hobby!
Cooking together creates closer bonds and helps build memories. It also gives the opportunity to listen, talk and share with them. Give them easy tasks and let them express their creativity.

—Estele Nkolo, Blogger, Sparenting
16. Try out some science experiments.
If you have older kids and tweens, conducting a science experiment at home could be both educational and exciting. For example, you could try the ever-popular volcano experiment.
Pour water into a plastic cup until it is 2/3 full.
Add five tablespoons of baking soda, one teaspoon of dish soap, and several drops of washable paint and stir.
Put the cup on a covered flat surface, and form a mound of dirt around the cup to just below its rim.
When the kids are ready to see the volcano erupt, add one cup of vinegar and watch the lava flow down the side of the volcanic mound!
Dr. Stephanie Ryan, who runs the Instagram account @LetsLearnAboutScience, recommends educational and amazing activities like Making Your Own Rain Cloud, to help kids understand how clouds and rain work, and Making Your Own Memories with Water Beads, which pairs with Disney's movie Inside Out. Not only do kids enjoy seeing the water beads grow, but they can also use them to communicate emotions and learn about core memories. How cool is that?
If your child loves science, technology, engineering, or mathematics, it's fantastic to get them involved in related activities early. STEM Powered Kits are a great way to keep the kiddos learning over summer break or anytime!
17. Go bird watching in the yard.
Backyard birdwatching is a great outside-the-box activity for kids … Wild birds are everywhere—even in your own backyard. And, it's easy and inexpensive to attract more birds. All you need to get started are items you can pick up just about anywhere … a bird feeder, a bag of wild bird seed, and a wild bird field guide for your area.

When a bird appears, take turns finding the bird in the book to identify what type it is. Field guides usually organize them by color with large colored photos so even younger kids can participate. Eventually, they'll remember the birds and identify them by sight.

I started backyard birding with my kids when they were five and seven. They're 17 and 19 now and we still gaze out the window in hopes of being the first to spot the hummingbird or cardinal.

—Tammy Poppie, On the Feeder
If your kids are interested in wildlife, have them create a homemade bird feeder with a cardboard box or milk carton, sticks, straws, and markers. If you don't have those materials on hand, try the old pinecone method, by spreading peanut butter on a pinecone and topping it with seeds.
Keep your phone on hand and download a backyard bird identifier or grab a bird identification guide from Amazon to help you figure out the types of birds who come to your spot.
If you spot any hummingbirds, get yourselves a hummingbird feeder and fill it with a solution of sweetened water—1 part sugar with 4 parts water. It doesn't have to be dyed! Store extra in the fridge and refill feeders frequently.
18. Make and decorate ornaments.
Whether Christmas is around the corner or you're ready to hang a summer wreath, the kids will love creating ornaments. Use simple craft supplies or get a little fancy with salt dough ornaments.
19. Be creative with cardboard boxes.
Cardboard boxes are the perfect way to involve the kid's imagination. They can make a sailboat, an alien spaceship, a house—let their imagination take over. Let them take their time to build the boxes the way they want. Kids can even use it to play hide and seek!
My kids are very theatrical. They love singing, dancing, acting, and all that stuff. Unfortunately, all of the theater activities at their schools were canceled during the pandemic, so they don't have that as a creative outlet. Instead, they've been putting on plays for our family members via Zoom. They did *Frozen* in the living room one month, *Grease* in the garage the next month, and *A Christmas Carol* for the holidays. I've been collecting cardboard boxes and different materials for them to make sets, and they've been doing an amazing job. My parents and my husband's parents love it, too. The kids send them an invite and I set them up on Zoom so they can watch the kids' plays. It's a lot of fun to watch, and it's been keeping the kids busy.

—Lorie Anderson, Founder, MomInformed
20. Have a snowball fight in any weather.
You don't need to wait for winter to have a snowball fight! Give the kids a bag of cotton balls and some glue and let them create snowballs in all shapes and sizes. They can go wild, as they build balls and throw them at each other. The same rules apply—either you're out if you get hit or you have so many "lives" before you're done.
21. Dye white roses
This fun science activity can be perfect for little ones. Things you will need for this experiment are :
White roses
Glasses or cups
Food coloring or floral dye
Scissors
Instructions:
Fill a cup with a glass of water. Add your preferred colored dye; the more you add, the darker the rose will turn. Next, cut a half-inch from the stem on a diagonal angle so the rose will absorb the colored water. Place the stem in the water for a day or two. The rose should start changing color. When it is your desired color, remove it from the colored water and place it in normal water.
You can also change the color of plants with food coloring!
Buy white flowers at the store and food coloring. Put half of the root of the flower and put them in a cup of water with the food coloring you want. In a few hours, the plant will start changing colors.

This is my favorite activity because it helps them calm down and observe more.

Marcia Braga, Co-Founder, Family Tango
22. Create with paper plates.
Usually, all households with young children have paper plates on hand. Kids at home tend to love this simple activity and it barely requires any prep. Simple supplies like glue, markers, and paints will do—no complex tutorial needed. You could add glitter which, of course, makes anything more spectacular!
If you happen to have a hole puncher and string on hand, string several small plates together to make a seasonal garland. Alternatively, the kids could add some popsicle sticks to the backs to make their puppets for the aforementioned puppet show!
23. Take a trip down Memory Lane.
One of the most successful activities we've done at home with our children is something we call a nostalgia day. It is essentially about looking back at memories, both from earlier in their childhood and from before they were born. We gathered up all of our old photo albums, memory boxes, baby books, and even got my wedding dress down from the loft.

We then spent a happy few hours going through everything. The kids were amazed by the tiny clothes and shoes they used to fit in and loved reading the cards that were sent when they were born. They were mesmerized by the sight of themselves in films walking for the first time and having their first taste of chocolate.

We also put on our wedding video and they enjoyed seeing mummy in her wedding dress, we then did a little recreation of the wedding where both my daughter and myself tried on my wedding dress and played at throwing a pretend bouquet. The highlight for the kids was seeing Daddy with long hair in the photo albums from our teenage years!.

—Josie Cornhill, Founder, Me, Them, and Others
We love this idea! Gather the kids and teach them a little about their history!
24. Have a game night (or day)!
Pull out those dusty board games or find some virtual games, set out some snacks, and get ready to play! You could even play active games like Simon Says. Make an event of it. You don't have to wait for a party to enjoy party games. Let older kids lead the young ones. All the kids are sure to have a great time!
If you opt to use an online service, like Virtual Game Nights from Let's Roam, you could even involve kids from other households. Interact with friends and family from around the world without leaving home. Connect, laugh, and play 'til your heart's content.
25. Send them on a scavenger hunt.
The authors of the Adventures from Scratch books are the founders of Let's Roam, your leading source for exploration and tools to help people travel and connect! They offer a highly-rated, easy-to-use scavenger hunt app to help people discover cities throughout the world or find adventure right at home!
Scavenger Hunts are a great activity to do with your child because they are so much fun! You can prepare the hunt ahead of time and let your kids figure the clues out on their own. They teach your kids critical thinking skills because they have to figure out clues or a map and then search for the hidden objects.

They are easy to do–all you need are some objects (they could be anything from toys to kitchen utensils!) and places to hide them. Common places are in bins, under beds and sofas, as well as behind pillows and under blankets.

Write clues as a rhyme. For example, for the laundry basket you might write, "I am in a place where you put your clothes. Have a stain on your t-shirt? That's where it goes!" After you have set up a few scavenger hunts for your kids, your kids can create scavenger hunts for you while you are working.

—Elisabeth Stitt, Founder, Joyful Parenting Coaching
For a twist on a classic scavenger hunt, use a shape scavenger hunt as an educational activity for little ones. Ask them to find specific types of shapes around the house and, when they find each shape, have them trace it on paper. Label the pages with identifying names and review until they know all of their shapes.
---
Final Thoughts
Whether it's coronavirus concerns or something else keeping you inside, the activities we've listed should help to keep boredom from setting in. When you set your mind to it, you can find plenty of activities for kids at home. It can also be an excellent time for them to help in household chores to make them responsible adults when they grow up. If you've tried any of our recommendations or have suggestions of your own, feel free to let us know in the comments.
If you need more ideas, take a look at these rainy day activities families can enjoy together. For more interactive fun, get yourself a copy of our book: Adventures from Scratch: Family Edition! Inside, you'll find unique ideas that will provide hours of amusement for you and yours. Each idea is hidden beneath a coating and you can scratch one off any time you're ready for some entertainment. We've even included tear-out adventures you can share with others! It's a must-have for families and makes a great gift for loved ones.
---
Frequently Asked Questions
What are some inexpensive activities for children?
There are many budget-friendly activities for kids that can be done with typical household supplies, including bean bag races, making playdough, indoor or backyard camping, or putting on puppet shows.