When it comes to creativity, the more the merrier! Call the kids, parents, and even grandparents, and get ready for fun family crafts. DIY projects let you get a little messy and give the whole gang a great way to bond with each other The big bonus is that you end up with super cool stuff when you're done. So bring out the art supplies and grab those odds and ends lying around the house, just waiting to be repurposed. We're giving you 8 kid-friendly ideas to make simple crafts and keepsakes that you'll cherish.
---
We've Been Crafting Up Some Adventures
Let's Roam is your source for fun ways to bond with loved ones. We've been hard at work coming up with activities for you to enjoy and we've compiled them into one big fantastic book. Now, Adventures from Scratch: Family Edition is ready for you to explore. This compilation of challenges will beat boredom any day of the week. Scratch the surface of over 50 unique ideas. Use the handy key to help you decide which one to do next! With 5 different types of adventures, including tear-out tasks to share with others, you'll be occupied for hours on end.
---
Let the Fun Family Projects Begin
Our art projects can be done with kids from preschoolers to tweens and we'll give you step-by-step instructions to keep you on track. And remember—these make great gift ideas for those near and dear. If family members can't participate, they can still enjoy the results!
1. Handmade Beaded Jewelry
This family craft is fun, easy, and everyone gets their own pieces of customized jewelry!
What you need:
Polymer clay
Clay tools—This is where the adults come in!
Thin string or cord—Elasticized works well.
Toothpicks, drink stirrers, or straws—These should be wider in diameter than your string or cord.
Mod Podge Gloss (optional)
How to make:
Cut small bits of clay for each bead.
Mold each piece of clay in your hands until it is soft enough to roll into balls or form into any shape you choose. Combine colors for a marbling effect. Get creative!
Poke a toothpick, drink stirrer, or straw through the beads to make a hole for the string or cord to go through.
Bake the clay according to the package instructions. (Typically, beads are baked at about 275° F for 10-15 minutes, but check to be sure!)
After the beads have cooled, add a layer of Mod Podge Gloss if desired.
Once the beads are fully baked, cooled, and gloss is dry, string the beads onto your cord and make a knot to close the piece.
2. DIY Stickers
It is no secret that children love collecting stickers. The only thing more addictive than collecting them is making them!
What you need:
Contact paper or sheets cut from thick wrapping paper
Washable glue
White vinegar
Small paintbrush
Scissors and/or craft punches in various shapes
Thin markers for adding text
How to make:
In a bowl, combine equal parts washable glue and white vinegar to make a thin liquid.
Use a small paintbrush to very lightly paint the back of a paper with the glue mixture. You don't want to soak it. It will warp.
When dry, apply a second coat.
When the second coat is dry, cut shapes using scissors or patterned craft punches.
Use scissors or a craft punch to cut out the shapes you want.
Add text with markers, if desired.
To apply the stickers to notebooks, cards, envelopes, etc. simply moisten the backs with a dampened sponge.
3. Yarn Flower Greeting Cards
Yarn flower greeting cards are a fun family craft project that can be used any day or for holidays year-round. Consider homemade cards for Valentine's Day, Easter, Christmas, or birthdays. Dads could even help the kiddos create the most fantabulous Mother's Day card ever! This kids' craft is a classic and everyone knows that hand-crafted cards are way better than store-bought.
What you need:
Cardstock (individual sheets)
Scissors
Yarn (in flowery colors, including green for the stems)
Craft glue
How to Make:
Spread a light coating of glue on the cardstock, where you would like to place the first flower top.
Coil the yarn in a circular pattern. Take care to press the yarn spiral firmly into the glue. Use any color or get extra fancy and combine multiple options. You could also create a layered effect by completing a yarn flower background first, topping portions with glue, and adding smaller yarn spirals on top.
When the flowers are done, move on to the stems. Cut the green yarn into stem lengths and tie a bow in the center of each to create the effect of leaves. (Note: You could use pipe cleaners, instead.)
Place a stem under each flower and glue firmly into place.
4. Animal Masks
Younger kids can have lots of fun making and masks and acting like their favorite animals. This paper craft is fairly easy and requires basic art supplies and household materials. When they're done making their masterpieces, have them put on a fun show for the whole family! This could also be a fun craft for a Halloween or birthday party—and the kids get to take their masks home with them.
What you need:
Paper plates—Colorful ones work great!
Crayons, markers, or paints
Construction paper
Cardboard tube left from wrapping paper, toilet paper, or rolls of paper towels
Scissors
Adjustable elastic cords
Stapler
Embellishments like pom-poms, mini coffee filters, cotton balls, yarn, etc.
Glue
How to make:
Use the end of the paper roll to trace circles where the eye holes will need to be cut into each paper plate.
Cut the eye holes and hand the plates over to the kids, for decorating.
Kids can use crayons, markers, or paints to create an animal face on each plate.
Some details can be cut from construction paper and attached with a simple glue stick or craft glue.
Glue embellishments on the masks to give them fluff, fur, scales, etc.
When the animal face is complete, measure the elastic cord the width of each plate and allow some "give."
Cut the elastic cord and attach to each mask with staples.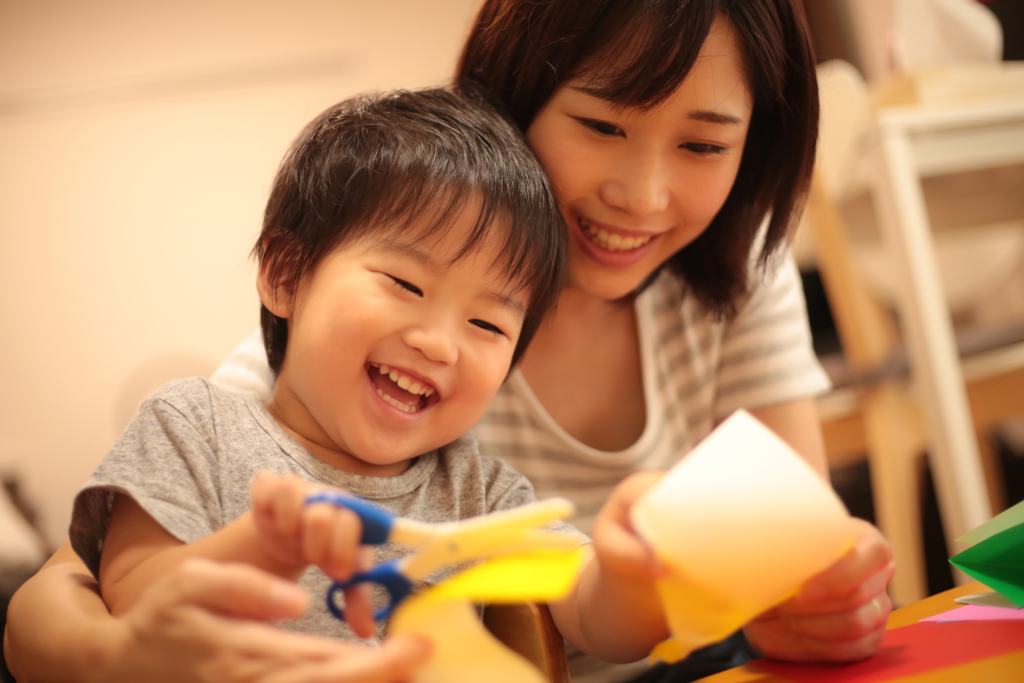 5. Decoupage Bowl
Give boring bowls a colorful makeover! This is a lovely and fun way to customize bowls. Then, use them to store trinkets and treats.
What you need:
Bowl
Plastic wrap
Scissors or circle punch
Colorful tissue, crepe, or lightweight construction paper (Alternatively, you can tear sheets from magazines.)
Decoupage medium
Paintbrush
How to make:
Choose a bowl that you want to decorate and wrap it in plastic wrap.
After that, using scissors or a circle punch, make several cuts from different colored sheets of paper and place them around the bowl using decoupage medium and a paintbrush.
Let it dry, and put it to good use!
6. Macrame Wall-Hanging
Macrame wall-hangings are a popular home decor item that might seem too complicated to make, with all those knots. You're in luck! There are easy macrame projects that the whole family can do together. They take a little bit of work but are truly worth it.
What you need:
12-inch wood slat or dowel
Thin t-shirt strips or ready-made t-shirt "yarn" in 2 colors
Scissors
Ruler
How to Make:
Measure and cut five 5-foot pieces of t-shirt yarn in one color (color A) and four 5-foot fragments from another color (color B).
Fold a piece of color A yarn in half and place the fold behind the wood slat. You can bring the ends of the yarn up and slip them through the folded loop. What you're actually making is a "cow hitch" or "lark's head" knot.
Tighten the yarn, so the folded loop is on the bottom. Flip the wood slat over so the loops show on the front.
Repeat this cow hitch process with a strip in color B.
Keep repeating this process with all the pieces of yarn, alternating between the colors. You will end up with 9 knots and 18 hanging strips.
Now it's time to get even more creative. You're going to divide and arrange the 18 hanging strips into three equal sections and create a pattern. To finish the project, see this original idea with a picture-by-picture tutorial of macrame wall art by Handmade Charlotte.
7. Personalized "Rocks" Paperweight
This fun project makes an adorable Mother's Day or Father's Day gift or a present for any occasion. Ask the kids to go out in the yard and collect some tiny pebbles while you prepare the other ingredients or collect small stones on nature walks with your children.
What you need:
1/4 cup salt
1/2 cup flour
1/4 cup water
1/2 cup pebbles
Cookie sheet
How to Make:
Preheat the oven to 250° F.
Mix the flour, salt, and water in a bowl to make the "dough." If the dough feels too sticky or is too wet to shape, add flour until it feels like cookie dough.
Shape a piece of the dough into a ball in your hands. Place the ball on the cookie sheet and flatten it to about 1/2″ in thickness.
Use rocks to spell out "Mom Rocks," "Dad Rocks," or use any name you'd like! Press the rocks firmly into the dough.
Once satisfied with the design, bake for approximately 2 hours.
Allow your paperweight to fully cool before gifting or using!
8. Hand Warmer or Reheatable Aromatherapy Pillow
These hand warmers make perfect gifts and are fantastic introductions to sewing. The concept can also be used to create larger reheatable, soothing pillows! A relaxing scent can be a nice added touch, but can be left out if you prefer.
Ingredients:
1 piece of cardstock
Cotton fabric
Ruler
Rotary cutter
Large bag of white rice
Funnel with a wide enough mouth for rice to flow through it
Sewing machine or needle and thread
Essential oils (for an adult to drop in, sparingly, at the end)
How to Make:
Measure and cut cardstock into rectangles 1/2 inch bigger (on all sides) than your desired hand warmer. If making a pillow, both sides should be 1/2 inch wider and longer than you want your finished pillow. The cardstock will act as a guide when measuring and cutting.
Use the rotary cutter to cut the fabric to size by following the edges of the cardstock.
If using a patterned fabric, place two pieces together with the right sides face-to-face and the wrong sides out. Otherwise, just place two pieces together. Pin them into place so that they remain edge-to-edge when sewing.
Sew three sides on a machine or by hand. On the fourth side, leave at least a two-inch opening. Remove pins as you go.
Carefully turn each little "pillowcase" right side out.
Place the funnel into the hole you left and fill the case with rice.
If using essential oils, add a few drops.
Hand-sew to close the final seam. Reinforce if need be.
Note: If sewing's not your thing, you may try using fusible webbing or hem tape instead. It's important to note that the seal may fail, especially after a few uses.

To use, microwave for about 15-20 seconds. The hand warmer or pillow will retain heat for quite some time! You could also try freezing when you need a cold pack.
---
Final Thoughts
We hope you enjoyed our list. Family crafts are so fun and offer the perfect opportunity to spend time with your little ones. Get the older siblings involved and share a few laughs with the entire family!
Have you made any of these crafts or do you have favorite art projects you'd like to share? Let us know in the comments!
When you're all done crafting your hearts out, try these mom-approved activities for kids, or hop on over to check out our family adventure book! You won't find yourself in need of activities for a while when you have over 50 unique ideas scratch-off challenges at your fingertips!
---
Frequently Asked Questions