We love being in love. Spending quality time with your significant other is one of the best things in the world. Not only do you get to know them better, but it helps you strengthen your bond. Research shows that partners who try new things together are more likely to have better communication. In addition, exploring new things with your boyfriend makes great memories. Forming a deeper connection with your boyfriend can come in many ways. In this article, we'll give you some ideas and tips on some fun new things to do with your boyfriend. Next time you plan a date night, use some of these ideas to watch some sparks fly!
---
Date Ideas From Scratch
Doing something new and unique with your partner is a wonderful way to make new memories. Why not add some adventure to the mix? Adventures From Scratch: Couples Edition is an epic interactive book. Scratch off a new adventure on every page. Whether you want to head outdoors or have a night in, you'll always find something awesome to do together. Cook, dance, sing, and fall for each other in new ways. It's the dating book you need!
---
26 Fun Things to Do with your Boyfriend
1. Answer the 36 Questions to Love.
If you want to get to know each other better (be it on a first date or later), consider answering the famous 36 Questions that Lead to Love. Compiled by psychologist Arthur Aron, these questions are designed to get you to open up. By helping couples get vulnerable, these questions encourage couples to get closer. To make things even more intimate, stare into each other's eyes for four minutes after you answer these questions (you can make a game out of this too!).
2. Build a campfire.
Let sparks fly (quite literally!) as you enjoy a night by the campfire and make s'mores with your boo. Try to head out to a nearby camping site so you can watch the stars and cuddle all night. If you can't go too far, turn your backyard into a mini camping ground. Set up some chairs, build a fire, and get marshmallows ready. Get ready for a lovely night of heart-to-heart convos. Play some soft music, bring out the blankets, and let the romance begin!
3. Go on a couples' adventure.
Nothing brings a couple together like an adventure. With Adventures From Scratch: Couples Edition, you'll be able to embark on an exciting adventure with your beau. Each page of this book has something unique you can try. There are 50+ fun activities to choose from, so you'll never run out of ideas. Before you scratch off a new activity to do, you can use the helpful key to decide the budget, time, and location of your date. So what are you waiting for? Get scratching!
4. Watch fireworks!
Want some fireworks to go off in your relationship? The best way to start would be to watch some fireworks yourself! Use social media to find out when and where your nearest firework show is, and plan a surprise outdoor date for your boyfriend. Pack some pizza, root beer, blankets, and music. Pick a cozy spot to watch the show, or cuddle up on the hood of your car. Fireworks never go out of style; you're certain to enjoy the magical show. There's nothing cuter than kissing under the fireworks!
5. Go stargazing.
There's something magical about kissing under the stars, and we can't get enough of it. If weekend trips are impossible, plan a simple night under the stars to enjoy some quality time with bae. Planning this is simple—you can set this up even in your backyard. If you want to watch even more stars, plan a date to a nearby observatory or planetarium. There you can check out constellations through a telescope. When you're done, lay out a blanket in your backyard, spot some stars, and cuddle all night.
6. Go skydiving.
Up for an adrenaline rush? Skydiving might be your thing then! Doing something new and adventurous together is a great way to bond and connect. If you've never gone skydiving before, you don't need to find a cliff to jump off of. iFly has indoor skydiving centers around the country. Here, you'll be able to go skydiving inside a tunnel. You'll be able to take hilarious photos, plan your descent, and grab some pizza afterward. Now that's a perfect date!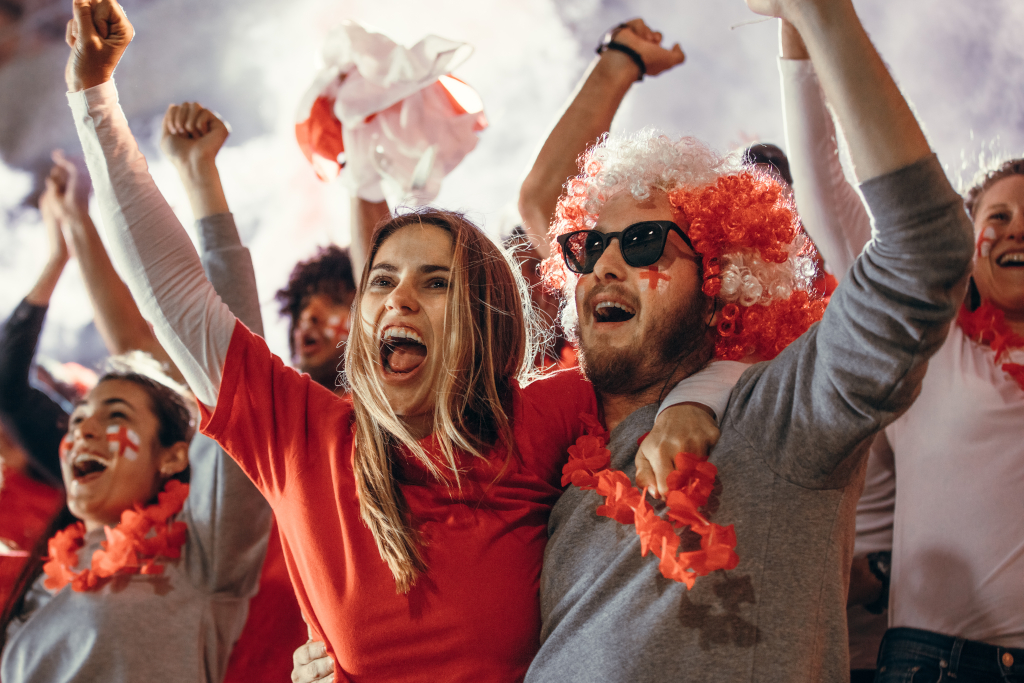 7. Cheer on your favorite team!
If your partner is into sports and you aren't, here's something new for you to try. Show your boyfriend how much his interests matter to you by taking him out to his favorite game. Here's your chance to pick up a new hobby too. Before you go, read up on the team and the game so you can wow him with some fun facts and tidbits. Not only will he love that you put in the effort, but you can bond over your new shared interest.
8. Go bowling.
We love this charming date idea because it's a classic. Find a bowling arcade and ask your boyfriend out on a spontaneous old-school date. You can challenge each other to a bowling match—milkshakes are on the loser. Once you're done, you can try your hand at some other arcade games too. Let your hair down, put your bowling shoes on, and engage in some friendly competition with your significant other. You'll be bowled over in no time!
9. Take an RV vacation.
One of our favorites from this list, an RV vacation is an exciting way to connect with your boyfriend. They say there's no better way to get to know someone than to travel with them. If you've never taken an RV trip before, now is the time to start. Plan a short trip nearby, rent an RV, and get started on the trip of your lifetime. Going on this trip will help you see how well you work as a team. You'll be able to make amazing new memories as you sing along on drives, wake up together in a new place every day, and watch the sunrise at some stunning locations.
10. Make a scrapbook.
This charming date idea will help you strengthen your relationship by looking back at what you've been through. A scrapbook will help you write and talk about all the good times you've had. To make this happen, all you need are some craft supplies. First, pick out your favorite couples' photos together. Then, get them printed out and stick them on your scrapbook. You can take turns to write something cute about your memories. Decorate the pages with hilarious sketches, doodles, and inside jokes. If you're in a long-distance relationship, you can make a virtual scrapbook together while on a video call.
11. Cook a new recipe.
Take the romance to the kitchen as you try a new recipe with your boyfriend. The key here is to be as adventurous as you can. Pick a cuisine and dish that both of you haven't tried before or take a virtual cooking class. Since both of you are out of your comfort zone, this will be a new adventure for both of you. Once you're done making the dish, have your own private wine tasting.
P.S. To make things interesting, you can turn cooking into a game. Only one of you can cook, while the other looks at the recipe and gives non-verbal instructions. No talking!
12. Have a no-phone beach day.
Going to the beach has always been a great idea. When you add a no-phone clause, it becomes even better! This will help you spend some uninterrupted quality time together. This also gives you the perfect opportunity to play some beach games. Have a sandcastle building contest and build houses for each other. Then, play a game of frisbee (pets are welcome!). Take a long walk along the beach as you watch the sunset. The options are endless!
13. Go to a haunted house.
Spooky season is here! If you're up for some scares and laughs, head over to your nearest haunted house. Not only will you be trying something new, but you'll have the perfect excuse for handholds and cuddles. A haunted house will have you giggling and screaming all at once. If there are no hauntings nearby or you want to stay in, set up your own haunted house yourself with some spooky lights, blankets, and booby traps. Ask your boyfriend to find his way to you through it!
14. Go hiking.
Spending time exploring the great outdoors and being one with nature is a charming way to connect with your boyfriend. Instead of staying at home or grabbing lunch to go, head out on a hike to a nearby trail or park. Here, you can take the path not taken add go on an off-beat walk instead. Before you leave, grab your copy of Adventures From Scratch. This book has 'On-the-go' cards so you can take the adventures with you wherever you go. These cards have mini adventures and games you can play with your S/O during your hike!
15. Sip and paint.
In case you want to explore your artistic side, try a sip-and-paint workshop. The premise is simple—enjoy an evening of art, wine, and romance. You can do this at home too. Just pick up a canvas, paints, and some wine. Pick a prompt that means something to you such as your first date, a perfect meal, or your ideal vacation. Then, draw together (make sure you place your canvas boards across each other so you can't see what your partner is drawing). Once you're done, show each other your art pieces and hang them on the wall!
16. Enjoy a game night.
If you can't go out for date night, bring it home with some games and wine. Pick out a new board game or set yourself up with some virtual games. Before you begin, set up some rules. For instance, the person that first takes the hit must buy dinner. This way, you'll be able to compete for bragging rights!
17. Make monograms.
Having a DIY day is a fantastic way to bond and chill at home. Celebrate your relationship by making a cute monogram of your initials. To do this, you'll need cardboard, scissors, and tape. Cut out your initials on cardboard; make two cutouts each. Then, join the two cutouts of the initials and join them with a strip of cardboard that's two inches wide. Once this is done, you can innovate as you please. Use the monograms as cupcake stands, or place flowers in them so that you can gift them to each other.
18. Sing karaoke.
Music makes any bond grow stronger (however terrible your singing is!). Get your musical senses grooving as you enjoy an evening of song and dance with your boyfriend. Make a karaoke playlist of your favorite jams, and start singing. To kick it up a notch, dress up in costumes from the era of the songs. This idea can be improvised for LDRs too. Get on a video call with your boyfriend, share your screen to show lyrics, and get singing!
19. Go skating.
Get ready for some serious retro energy as you go roller-skating with your boyfriend. If you don't know how to roller skate yet, now's your time to learn. Put on a helmet, grab some roller skates, and head over to a skating rink or pick a park. If it's cold outside, swap out the wheels for blades and go ice skating.
A new hobby will give you ample opportunities to strengthen your relationship. As you connect and encourage each other, you'll find new ways to show up for each other. This is a fun way to incorporate a workout into your relationship too.
20. Write love letters.
Ready to take "love language" literally? This is one of the more romantic things on our list. Next time you have to stay at home, instead of zoning out watching tv shows, write love letters to each other. If you want to get fancy, use handmade paper, stickers, and other cute things. We recommend creating a jar of letters where you write something short and sweet for your significant other every day. Whenever you feel blue, just read a letter to feel better.
If you're experiencing writer's block, Adventures From Scratch: Couples Edition can help you. Use the "Reasons Why I Love You Cards" or "Cascading Conversations" questions to get you started. Just pick a prompt and start writing down your answers. Once you're done, you can exchange your letters so your partner will have something heartfelt to hold on to.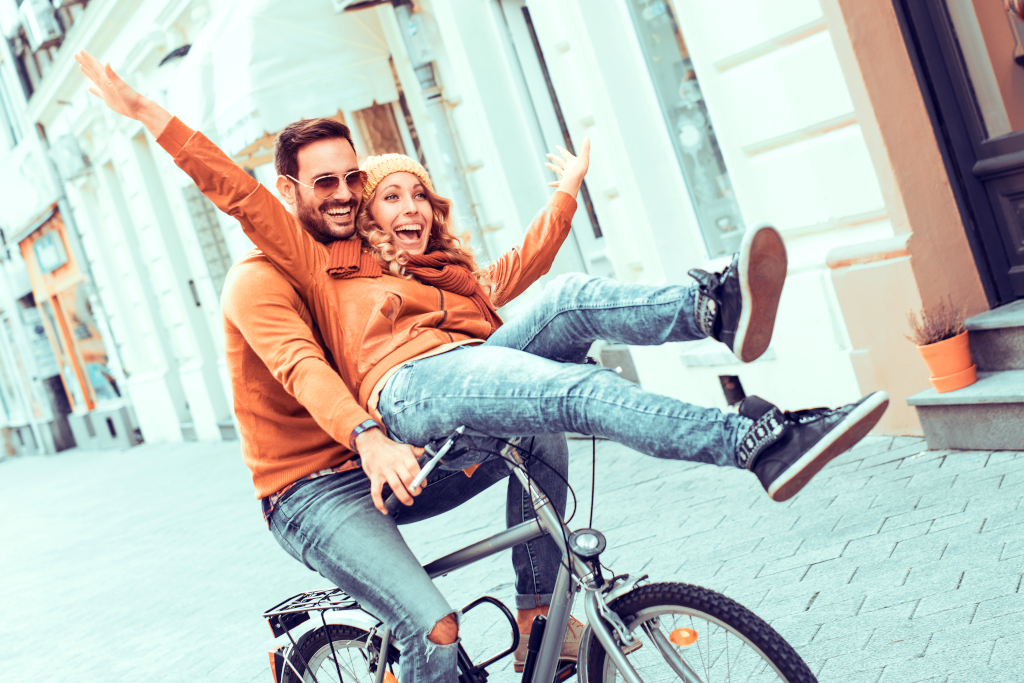 21. Take a bicycle ride.
You and your significant other can take in the world while riding a bicycle. Pick a trail or a park where you can enjoy the green scenery or bike down a city street. Whatever you choose, this activity is a great workout and date idea combined. Make it a weekly ritual!
22. Be the "couple goals" you like online!
TikTok and Instagram Reels have several adorable couples challenges and dance moves you can do together. From coordinated footwork challenges to pillow fight questions, these hilarious reels make the perfect date. First, pick the kind of reel you want. You can choose from simple Q&As, dance challenges, costume challenges, or pranks. Then, record them with your partner, plan your transitions, and post them on social media. #CoupleGoals!
23. Go on a picnic.
To add to a bicycle ride, why not go on a picnic while you're at it? Take a page straight out of a romance novel and go on a picnic with your beau. We think picnics are underrated. Planning a picnic is simple—it's the company that matters. Pack a basket full of sandwiches and chocolate, and head out to a nearby park. You can also pack each other's favorite food and exchange it during your picnic, to make a thoughtful surprise. While there, use a book like Adventures From Scratch to find an appealing outdoor activity!
24. Go to a bookstore.
There's something charmingly nostalgic about old-school bookstores, and we can't get enough of them. For your next date, take your boyfriend to a bookstore. Here, you can take turns to find a new book for each other. Once you're done picking your books, exchange them and tell your partner why you chose that book for them. Decide upon a particular date by which you finish reading the book. When you're done, you can talk about what you liked, how the book made you feel, and why your better half did a great job of picking the book for you.
25. Make a care package.
We love this idea because of how thoughtful it is. Making a care package need not be an expensive affair. All that matters is the effort that goes into it. First, pick a date by which you exchange your packages. Then, put together a package for your boyfriend; this can include ticket stubs from your fav movie dates, their favorite snacks, a playlist, some accessories, and a handwritten love note. A care package is a lovely way to show some love to your boyfriend if you're in a long-distance relationship too. In this case, spritz your letter with perfume so the box reminds him of you!
26. Have a spa day.
Everyone needs some TLC once in a while. Pamper yourself and your boyfriend by organizing a spa day. Book a day at a nearby spa so you can get pedicures and massages. In case you want to do this at home, you can get at-home kits. Play some relaxing music and put on a refreshing face mask. Get your boyfriend to pick your nail paint, and dance in bathrobes. You're bound to feel refreshed and relaxed by the time you're done!
27. Go on a scavenger hunt.
Explore a city near you or try a scavenger hunt at home using Let's Roam's available options. You'll strengthen your bond as you work together to figure out clues, answer trivia questions, and conquer challenges. There are ample opportunities for adorable photo ops, too. Give your next date day a little extra excitement. Have a few laughs, and let sparks fly!
---
Closing Thoughts
If you're in a rut, don't worry—it happens to all couples. The good news is that coming up with innovative date night ideas and creative things to do with your boyfriend is easy when you've got the right tools. Be it going to a bookstore, writing love letters, or checking items off your dating bucket list, rekindled romance is just a step away.
For more at-home date ideas, head over to our post on romantic date night ideas (better than Netflix)!
How will you take the leap? Have you tried any of our suggestions with your boyfriend? Share your ideas in the comments section.
If you want to include your children in quality time, look no further than Adventures From Scratch: Family Edition. In this interactive book, you'll find 50+ activities for the whole family to enjoy. With sections like "Cook," "Discover," "Create," and "Get Silly," every page will give you something new to do!
---
Frequently Asked Questions