Getting all dressed up for a night on the town can be a blast, but so can staying in. After all, there's nothing like having your sweetie to yourself on those nights you want to stay in and cuddle, but don't reach for the remote right away! Just because you're in the living room doesn't mean you have to binge Netflix. With a little creativity, you can have a lot of fun in your own home with your significant other (SO).
There's an endless list of date night ideas, but here are some of our favorites.
Game Night
There's a reason why this one's a classic. It's fun! Pick an assortment of your favorite board games and challenge your SO to some friendly competition. You can pick a variety of games, some more cerebral (Scrabble, anyone?) and some that are just fast-moving fun, like Connect Four.
You can also throw in some card games: gin-rummy is an easy one that almost everyone is familiar with but will lead to some hard-core strategizing. If you just want to laugh, slapjack is our date night card game pick.
Game night also makes for a great double date. Pick another pair and team up, couple vs. couple. Then break out Pictionary, Charades, and other board games that will have you collaborating with your SO to win.
P.S.: Your game night doesn't have to be limited to old-school board games! A video game night can be just as fun. If you're both gamers, put on your headset and team up against the other squads. Or have fun with retro video games: you can find Atari sets on Amazon for a great price. There's nothing like a Pac-Man battle!
Movie Night
We know we said no Netflix, but hear us out! Picking a movie that you both love—like the first one you saw together—is way different than mindlessly watching hours of Friends (sorry, Ross-and-Rachel fans!). Or choose something you've never seen and discover a new favorite; with an entire library at your fingertips, you're sure to find something you'll both enjoy.
You can also turn movie night into a theme night! Dreaming of Rome? How about pairing "The Godfather" with mom's meatball recipe? Or "Crazy Rich Asians" with takeout from your favorite Chinese restaurant? Maybe seafood and "Sharknado"?
If you don't want to add dinner to your movie night, your theme could still be just as much fun. A movie marathon of black and white films, foreign films, a film genre such as westerns or 80s movies, the Hunger Games trilogy…the list is endless!
You can also pick a beloved actor. Julia Roberts has an endless supply of rom-coms that are perfect for a sweet at-home date night, and Keanu Reeves is a great option for action or comedy.
Pro Tip: It's not a movie night without the snacks! For a healthy alternative to sweets, buy loose kernels and make popcorn the old-fashioned way.
Poker Night
There's nothing like a deck of cards to bring out everyone's inner card shark. There are quite a few different versions to play, though: Texas Hold 'Em, Five Card Draw, Seven Card Stud.
Make sure you and your SO agree on which game you're playing, then print out a set of rules for each of you. Unless both of you play regularly, having the rules on hand will make it much easier.
Playing for money, real or not, always adds a bit of an edge, but you don't want to get too competitive. Instead, keep it light by stocking up on inexpensive poker chips from Amazon. The brightly colored chips will give your dining room table a colorful casino flair.
If you really want to go "all in" on this one, pull down your hat and put on your biggest, darkest sunglasses. Gotta hide your tell during this fun date night!
Spa Night
Think spa nights are just for bachelorette parties and slumber parties? Think again! Everyone deserves to get pampered from time to time. And you don't need to head to an upscale spa or resort to indulge yourselves.
First, set the mood with zen music. Your goal here is relaxation and bliss. YouTube has some great, long playlists of nature sounds or Tibetan music that would work perfectly. You can also add aromatherapy with scented candles or an essential oil diffuser. Lavender is especially good for unwinding and de-stressing
Face masks are one of the easiest ways to start. Almost any pharmacy or department store will offer tons of options for every skin type, or you can DIY it. Pinterest has tons of recipes for face masks with common household ingredients such as honey.
Next, move on to hand massages. You use your hands all day, even just to peck at your laptop or swipe on your phone. Your fingers deserve a little love! Take turns giving each other hand massages; scented lotion will give it a special touch.
If you want to up the "cute factor," order foot massage socks. They're silly and brightly colored, but they show exactly where to rub on the foot to relieve everything from a headache to a sore knee. These socks are based on the premise of the ancient art of acupressure, so they're surprisingly accurate.
Date Night Under the Stars
A stargazing date night is one of our top romantic date night ideas. You do have to coordinate this one with your favorite weather app, though, to make sure that you pick a night that's dry and cloudless. Then, load up on blankets and head outside to snuggle under the stars!
No need to worry if you don't can't pick out the stars on your own, there are a ton of stargazing apps to choose from. Download one that looks good, point your phone up towards the sky, and discover the stars. Some will even show you the position of the planets; be sure to point out Venus, the planet that rules love. It is date night, after all!
You can also use your smartphone to research upcoming celestial events. If there are going to be any meteor showers soon, it'll be the perfect complement to your stargazing. Don't forget to wish on any shooting stars you see!
If you really want to impress your SO, find out what sign they were born under (their zodiac sign), and point it out to them in the night sky. They're not all visible all the time, so you'll have to do a little prep work here.
Pro Tip: If you don't want to lie on the grass, either because it's dewy or because it's full of little creatures, set up an inexpensive kiddie pool. Spread it out, blow up the rings, and pile in your blankets and pillows. The waterproof lining will keep your clothes dry and bug-free.
Wine Tasting
Turn your living room into Napa Valley with a wine tasting night. Not sure where to begin? You can always ask for advice from your local liquor store as to what bottles might go over well, based on some of your favorite flavors.
For your tasting, you can pick a variety of bottles, such as one red, one white, one sparkling, and one dessert, or stick to a more limited palate, such as all red wines.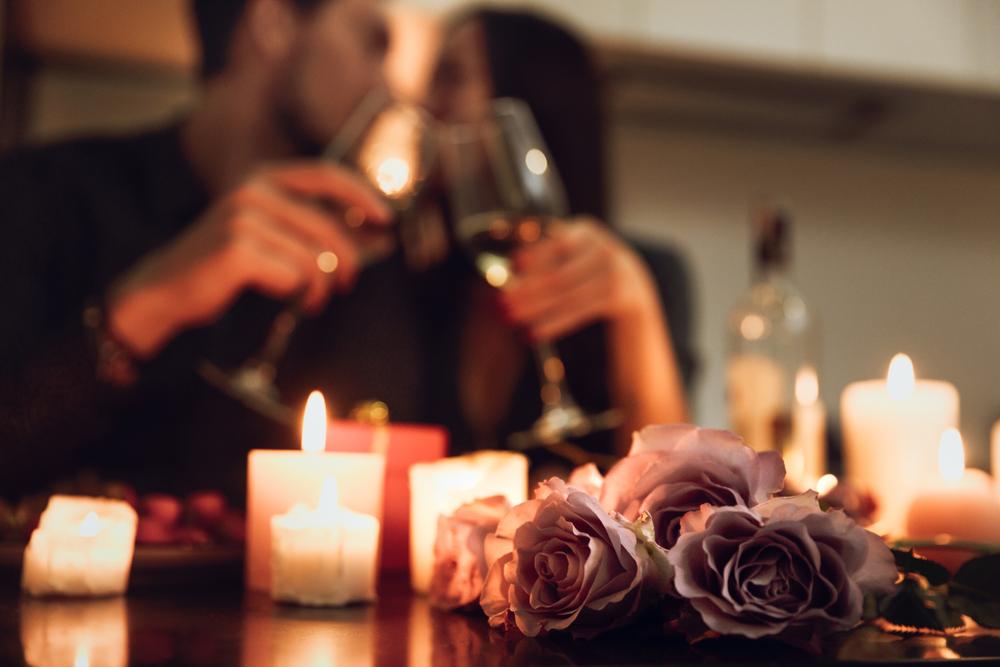 Open your first bottle of wine and get started. Here's what you will want to observe:
Look: What color is the wine? How deep is the color, is it opaque? Then swirl the wine around in your glass and notice the viscosity—the so-called "legs" of the wine.
Smell: What does your wine smell like? Can you detect flowers or fruit? Is it earthy? How intense is the aroma?
Taste: This is the fun part! Note the flavors, such as sweet or tart, as well as the wine's structure (sweetness, acidity).
Compare: Once you've opened more than one bottle, you can compare them.
Wines tend to pair best with specific foods: Pinot with seafood, Cabernet with steak, etc. So unless you're offering wines of all one variety, you're probably better off not offering a meal during your wine tasting. Instead, opt for lighter fare such as cheeses, crackers, and fruit.
You'll also want to make sure you drink plenty of water. Regardless of whether you sip or spit your wine, hydration is the key to feeling good the next morning.
Fondue Night
Fondue was uber-popular in the 70s, ironic in the early aughts, and now it's making its comeback, and there are good reasons why fondue is one of our favorite home date night ideas, apart from the fact that it's just plain delish.
For one thing, it's interactive. One person isn't stuck in the kitchen cooking while everyone else is hanging out. On date night, the whole point is doing things together, and fondue definitely checks that box.
Fondue is also easy. You just add all of your ingredients, and let the fondue pot do the work. No stirring, whisking, sifting, or grilling necessary.
Popular fondue restaurants usually offer three course meals: cheese, entree, and dessert. It's a filling night, though, and most customers usually skip the entree and opt for the two yummiest options, the cheese and the dessert.
Cheese Fondue
You'll find plenty of recipes online for your cheese fondue. Some use common grocery store items, but others might have you heading to the deli for a particularly obscure cheese. Almost all of them call for some type of alcohol (beer and white wine are the most popular). Don't worry, for the most part, the alcohol will burn off.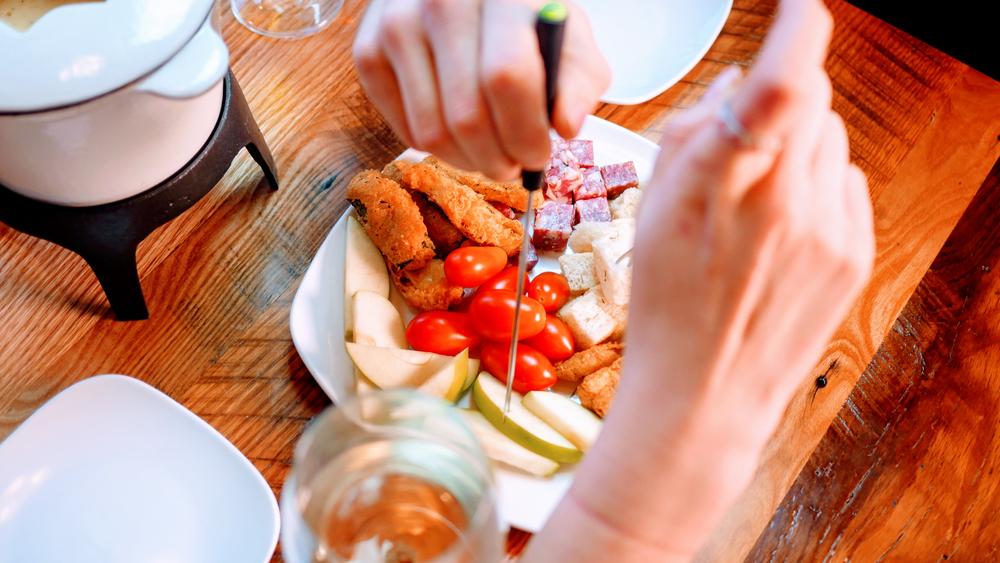 Once you have your cheese fondue recipe in hand, it's time to decide what you'll serve with it. Cut up bread, green apples, and carrots are all tasty accompaniments.
Chocolate Fondue
Sure, you could just buy a chocolate bar and add it to the pot. But it probably won't be as smooth and creamy as you'd like, and it might even burn. Like with the cheese fondue, we recommend that you look up recipes online.
As to what to serve with it, almost everything goes with chocolate! Strawberries, bananas, pineapples, mini cheesecakes or shortbread bites. Let your imagination be your guide.
Because fondue is so easy to make in larger batches, this is another great option for a double date. Invite another couple and have fun with the cheesy, chocolate-y goodness!
Camping Out
Camping out, or at least pretending to, is another fun way for nature lovers to enjoy an at-home date night. Unless you both enjoy sleeping outdoors, you don't have to go to all of the trouble of setting up a tent in the backyard.
If possible, you can get a fire pit going. Add a bag of marshmallows and some graham crackers, and suddenly you're ready for s'mores!
Leave the electronics indoors, even the music. Enjoy the quiet instead, or take turns telling your scariest or silliest ghost stories. You can always run indoors if you get too spooked!
If you do decide to sleep outdoors, take advantage of easy access to electricity. Make your night more comfortable with an air mattress. It's kind of cheating, but we won't tell if you don't!
Paint Night
For a creative date night, unleash your inner artists!
To get started, you'll need:
Canvases
Smocks (or oversized tees that you don't mind potentially ruining)
Brushes
Paints
Wooden or plastic palettes to hold dabs of paint
Cups of water, for cleaning brushes
Old newspapers and/or magazine for covering the painting surface
Easels (optional, but convenient)
Most of your supplies can be found at your local art supply or craft store, or you can order them online. To save money on paints, though, decide what you'll be painting first so you don't end up buying colors you won't need.
You can go DIY here, just painting whatever comes to mind. Or you can print a picture—maybe a spot that's meaningful, like your first vacay together—and try to duplicate it, or you can find a virtual painting tutorial online. These are available for all skill levels and will walk you through creating your masterpiece.
If painting isn't your thing, there are many artistic options for a creative date:
Sketching
Photography
Writing a poem or short story
Play an instrument
Pick one that both of you might enjoy, even if you've never tried it before. Look on YouTube for free tutorials, and have a blast with your inner Picasso (or Hendrix, whatever the case may be).
Memory Lane
A trip down memory lane is such a sweet at home date night! Looking back at all the memories you've made and the fun you've had can inspire you to make even more plans for the future.
There are a couple of ways to do this. You can set up a slideshow on your computer, then share it on your TV. Add some popcorn or your favorite snacks, and your relationship will be your favorite big-screen blockbuster. Bonus points if you take the time to add a soundtrack!
You can also go old-school on this one. You know those dozens (or hundreds!) of selfies you've taken together? It's time to print them all out. Then invest in some glue sticks and photo albums. You'll spend the evening looking at your favorite photos, and then have them ready for whenever you want to browse through them again. Much better than keeping them stored on your phone or laptop!
Getting to Know You (Again)
When's the last time you had a deep, personal conversation? Even if you've been dating for a while, it's easy to get caught up in the outside world and lose touch with one another, on a deeper level. But this date will change all that and have you reconnecting in a truly meaningful way.
Here are some of our favorite "getting to know you" date ideas:
Share Your "Bucket Lists"
We all have them, that list of activities we want to do and places we want to visit. Share your deepest, most fervent desires, even the really wild ones like swimming with sharks! Write them down, then help each other cross them off together.
Would You Rather…?
You can come up with these questions on your own or find them online and print them off. They can range from the super silly to extra deep. By posing questions you'd never think to ask one another on your own, this activity will give you interesting insights into your SO.
Ideal Trip Planning
What's your dream trip? If you could go anywhere in the world, where would you choose and why? What would you do there? You might be surprised to learn that your SO would rather spend a month learning to surf in Costa Rica than a week exploring Paris, but when you find that your interests intersect, it's time to set some goals together. Until then, daydreaming is free!
Find Your Love Language
Have you ever heard of love languages? There are five of them, and everyone falls into one of the categories: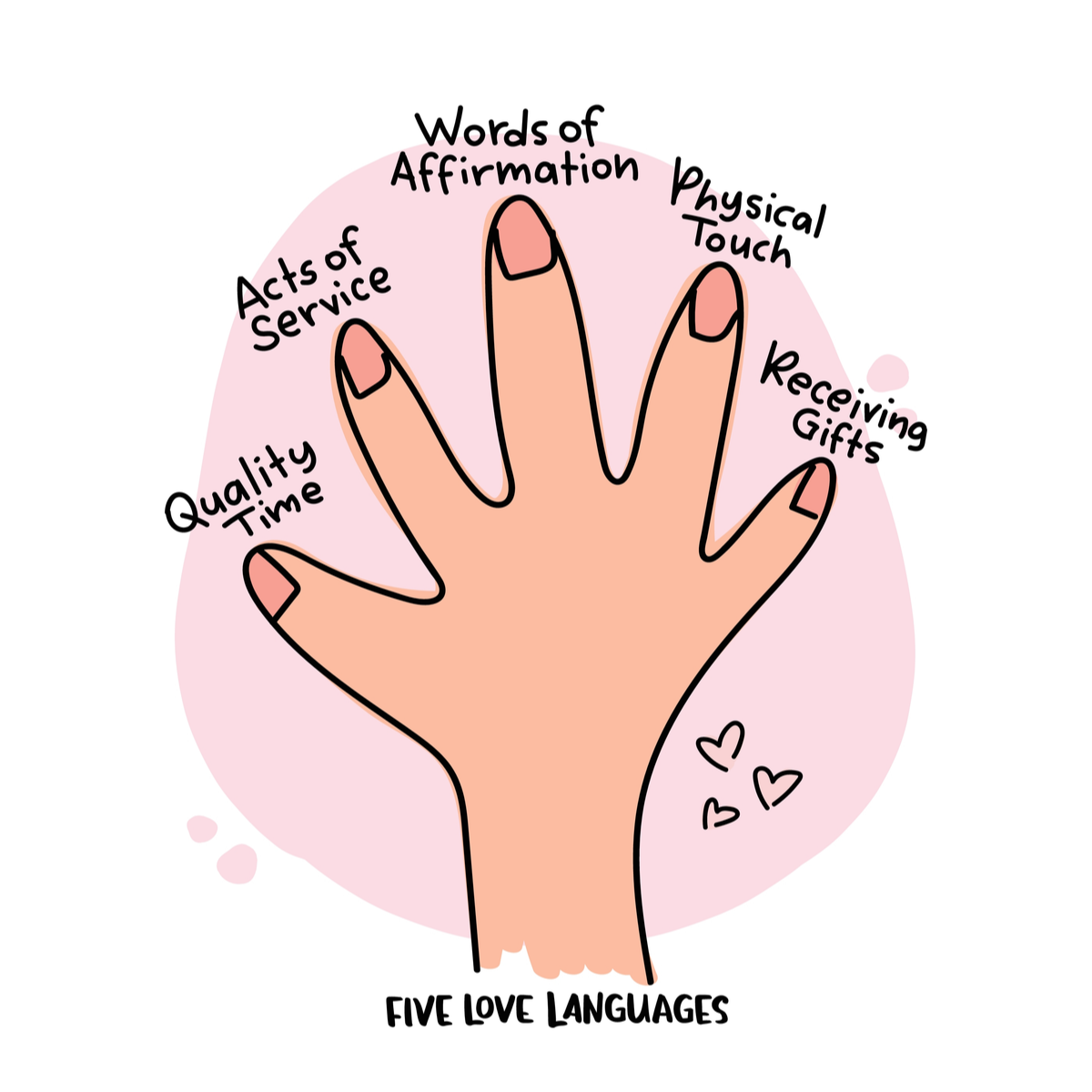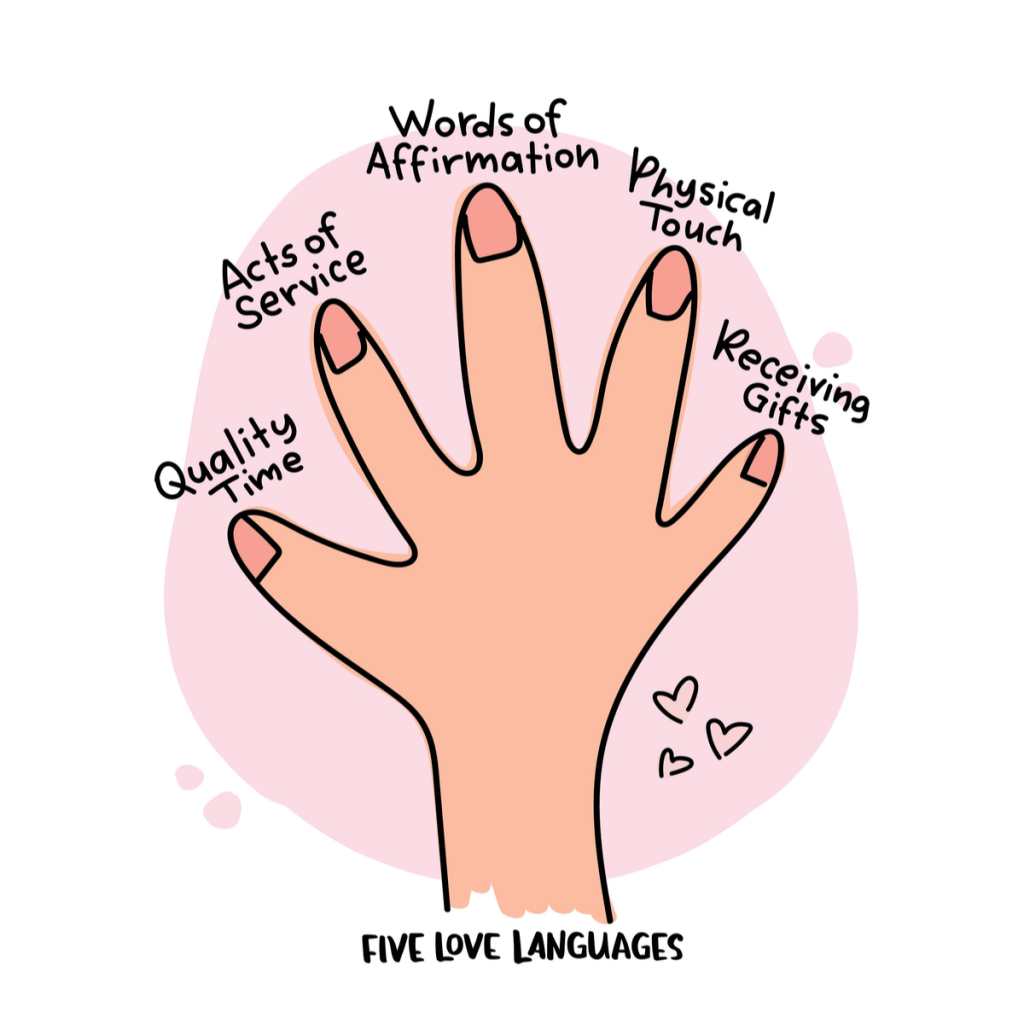 Words of affirmation
Quality time
Physical touch
Receiving gifts
Acts of service
Your love language determines the way you prefer to receive love. Maybe you're writing your SO love letters, but they'd rather just cuddle on the couch, or maybe you buy them flowers, but they'd prefer a sweet "thinking of you" text during the day.
The whole point of knowing someone's love language is to better understand the way they need to be loved, so you can offer what they need. There are free tests online that you can take and then explore the results together.
Scavenger Hunt
Scavenger hunts are fun, active, challenging, and silly—all at once! Of course, since there are only the two of you, you'll have to find the hunt elsewhere; it wouldn't exactly be fair if one person designs it.
There are plenty of free printable scavenger hunt ideas online. Most of them use items that are already in your house, so they should be fairly easy to find.
You can also purchase an in-home date night scavenger hunt. The challenges and questions are an unbeatable way to bond and get to know each other better. Plus, there's nothing like a little friendly competition to get everyone energized, but we're warning you: this will easily be your favorite date and you'll be coming back for more!
Final Thoughts
A great date night doesn't require leaving the house! With a little forethought and imagination, you can plan an at-home date that your significant other will be raving about for years to come!
If you're having trouble figuring out the perfect date-night plan, our favorite home date night ideas will have you and your SO bonding and laughing so hard that you won't even remember you have a Netflix account.
---
A Date Night That Never Stops!
Finding new and exciting ways to connect with your partner just got easier! With a scratch-off couples adventure book, you'll always know what adventure is next. Created with guidance from loving couples of more than five decades, these activities are proven to bring you closer to your significant other and improve your relationship.
---
Frequently Asked Questions
Are at-home date night ideas expensive?
Not at all! They can be priced however you want, it just depends on your budget and what you want to do.
Can an at-home date night be a double date night?
Absolutely! In fact, most at-home date night ideas lend themselves easily to double dates. Game night, wine tastings, and scavenger hunts are all just as much fun (or maybe more) with other couples.