If there's anything you need to know about kids, it's that they love adventure and excitement. With the past year being so unpredictable, the entire family can use some cheering up. Finding an activity that's equally exciting for both children and adults can be quite a task – but not anymore! Adventures From Scratch: Family Edition is your one-stop interactive scratch-off family book that's got enough and more adventures for the entire family. With more than 50 adventures across different categories to choose from, you'll be surprised at every page. What's more, this book can be used practically anywhere – it's got many special features too! Here's everything you need to know about why Adventures From Scratch is the only scratch-off family book you'll need.
---
10 Reasons Why Adventures From Scratch Is The Best Scratch-Off Family Book
1. Indoor Ideas
Adventure doesn't always have to be about heading outdoors. Sometimes, the best adventures are those enjoyed in the comfort of home, surrounded by the people you love the most. Adventures From Scratch can help you create unforgettable adventures without leaving your home. For instance, you can organize in-home talent hunts, award shows, and even Family Olympics at home. In addition, you can use cards to create and personalize your own adventures. Our hunts are designed to be inexpensive – you don't have to splurge on supplies or go looking for them. All you need are household supplies and your family squad!
2. Outdoor Ideas
When the weather is so good that you can't resist stepping outdoors, take some adventure with you! We've got a great list of outdoor activities that you can enjoy with the whole family. Be it a hike, a road trip, a drive to the grocery store, or a day out at a garden, you can take along a dash of adventure with our on-the-go cards. These activities are designed to be done on the move – they have a bunch of prompts, questions, and challenges for every family member. These prompts also have lists of things to find, to do, and to ask each other. This means that your children will never be bored outdoors. Turn every family outing into an exciting event with our outdoor adventure ideas!
3. Budget-friendly
Keeping your kids busy and occupied can get quite expensive. Finding a new, innovative adventure for the whole family every week may put a strain on your wallet. But why fret when you've got Adventures From Scratch to keep you company? Our scratch-off family book costs only $39.99, making it a great deal for the whole family. With more than 50 adventure ideas + extra goodies, cards, and prompts, you spend less than a dollar for every activity – now if that's not an amazing deal, we don't know what is!
P.S. This is the perfect gift idea, both for yourself and your loved ones!
4. More Than 50 Options
With Adventures From Scratch, this one-time purchase will have you sorted for almost an entire year! There are more than 50 hilarious scratch-off adventures to pick from, giving you one epic activity every week. Also, there are bonus challenges, cards, prompts, and goodies, promising you a surprise at every turn. These activities are divided into exciting categories and types so you can take your pick every time. Further, the events are designed to bring every family member together so that one feels left out – you're sure to make this book a staple at every family gathering!
5. Pay-It-Forward Cards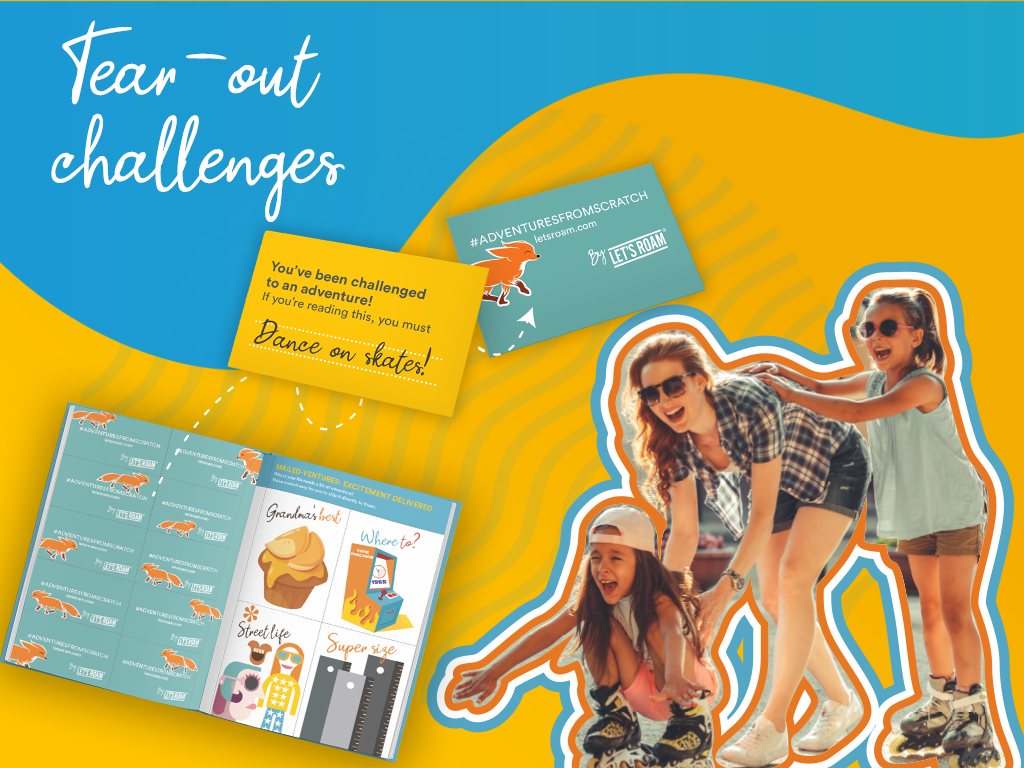 Spread love, joy, and adventure wherever you go with our special Pay-It-Forward adventure cards. These tear-off cards are designed to be shared with others. The best part is that these cards are completely customizable. Each card has a blank space that you can fill with just about any adventure idea – make them as hilarious and crazy as you want! When you're done, you can give these cards to friends, family, or even strangers. Challenge them to some truly exciting adventures and spread some joy with these unique cards!
That's not all. Not only does the book have tear-out adventure cards, but it also has a bunch of special postcards that you can mail to your loved ones out of state. Give your loved ones adventures in the mailbox – let them open a surprise adventure challenge!
6. Perfect for Family Game Night
Our scratch-off family book is the perfect companion for family game night or any get-together. Don't let your family reunion get boring – there's so much more to it than a board game! With Adventures From Scratch, you'll never know what you're going to get until you scratch it off. This means that every game is a surprise!
However, you won't be caught off-guard by any challenge. Each activity has a special key that lets you know how long it will take, what supplies you need, and other hints. With this key, you can prepare for each activity and have things ready before you scratch it off!
7. Exciting Categories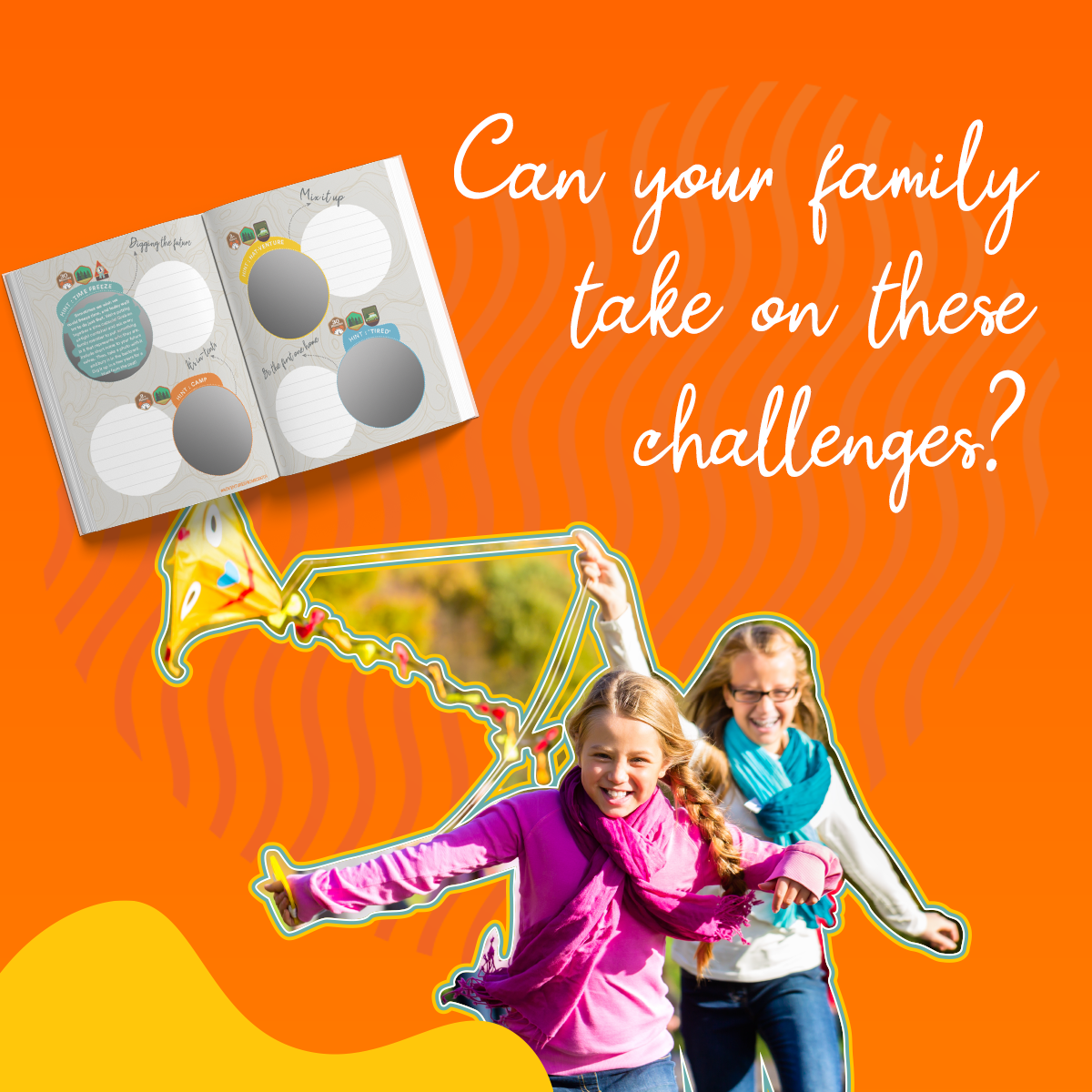 Adventures From Scratch is the whole package – we want to give you all types of adventures packed into one book. This is why we've divided the book into different categories. Each category has a list of adventures to choose from. There are 5+ categories to pick from, including 'Explore,' 'Discover,' 'Get Silly,' 'Cook,' and 'Spread Joy.' Before each adventure, just pick a category and scratch away. From a hilarious cook-off, an at-home staycation transformation, a time capsule-making contest, and an in-home talent hunt, there's a lot to choose from!
8. Make Memories
Family time will never be the same again – with an exciting, out-of-the-box adventure that leaps off the page on every turn, you'll be spoilt for choice with this adventure book. Besides, you can customize each activity which makes the games even more fun. Spend quality time with your children and family with these activities and games. The best part is that you can also use this book to connect with family and friends that don't live in the same city as you. Simply pick a mailed adventure card and post it to them – you'll be able to share the thrill of adventure with everyone you meet!
9. Perfect for children
Our Family Edition has been put together by experts and tested by families over the country. Our kid-approved, family-friendly games are perfect for children of all ages. In particular, children between the ages of 3 and 16 are bound to love these games. The fun starts with opening the book – you can pick a category, read the key, and start scratching each adventure off – you're sure to be surprised every time. What's more – parents are sure to love the games as much as the kids. Find a fun activity and get the games started with your kids with Adventures From Scratch!
10. Combine with Other Events
Our scratch-off family adventure book is sure to be a hit at parties and get-togethers. For your kid's next birthday, why not give them a ticket to adventure? Open this book at your kid's next party and watch them have an absolutely epic time with their friends. The activities can be improvised and tweaked to include more people, making it perfect for kids' events. Additionally, you can write fun tasks on the pay-it-forward adventure cards and hand them out to your child's friends. This means everyone gets a hilariously exciting task to do!
---
Bonus!
Psst. If you like Adventures From Scratch: Family Edition, we're sure you'll love the Date Edition too! Check out this epic book for more than 50 romantic, funny, wholesome, and cute challenges for you and your significant other. It has several special features, add-ons, and categories, making it the perfect birthday or anniversary gift. Thank us later!
When it comes to scratch-off family books, no one does it better than Adventures From Scratch. This family-friendly treat is a must-have for every family gathering. Get your hands on a copy today to get started on your epic journey. Adventure is only one scratch away!
---
Frequently Asked Questions
Is Adventures From Scratch a scratch-off family book?
Yes, it is! Our special interactive book is the best scratch-off family book for you because it has more than 50 adventures and bonus challenges. We've got on-the-go cards and other special features too!
Can I use Adventures From Scratch with my kids?
Yes, you can! Our adventures have been hand-picked for children between the ages of 3 and 16 (and their parents!) We've got great reviews and feedback from both parents and kids – family-friendly fun is guaranteed!
What is special about Adventures From Scratch: Family Edition?
Our Family Edition is perfect for parents and children. They are designed to involve every member of the family. There are indoor, outdoor, on-the-go, and pay-it-forward options too. You can customize every activity to suit your budget, taste, and time.
How many adventures does each book have?
Our Family Edition has more than 50 adventures to choose from, and additional bonus challenges and prompts. We also have on-the-go cards and pay-it-forward cards that you can send to family, friends, and strangers!