The best adventures often require at least a few hours of brainstorming. If only it was easier to find date books for couples that are chock-full of suggestions designed to appeal to even the pickiest partners. All you'd need to do is get straight to the fun, without having to spend hours flipping through so-so suggestions.
Sounds convenient, doesn't it?
Every year, tons of books flood the stores, claiming to have just what couples need to rekindle their love with a paperback compilation of adventures. We've sorted through tons of possibilities and we're sharing 3 of our top picks. So, get ready to get to the good stuff. These date books for couples are sure to bring you and your boo closer together.
---
Top Date Books for Couples
1. Adventures from Scratch: Date Edition
There are plenty of reasons that the book tops the list. First of all, let's talk about the authors — Let's Roam strives to cultivate unique adventures for like-minded experience enthusiasts. Its founders, the Harding brothers, are exploration-aficionados themselves. They began working on the Adventures from Scratch books in 2015 and, after over 5 years of all-nighters, they've produced two fantastic compilations: The Adventures from Scratch: Date Edition and the Family Edition.
When it comes to date books for couples, the date edition is what fun-loving and spontaneous couples' dreams are made of. Even if you just want to be more adventurous, this book gets you moving in the right direction. Think of it as an interactive tool that will strengthen your bond as you take on challenges, try new things, and visit new places.
Stuck at home? They have you covered. You can do many of the activities right in your house or yard. The book's awesome activities have been curated by Let's Roam's exploration experts in collaboration with couples who have spent 40+ years together and have already aced the art of building a life-long connection. Prepare yourself for the unexpected—these challenges will take you to from your kitchen to the nearest roller skating rink. Suggestions are classified into categories including Discover, Explore, Create, Sugar & Spice, Play, 'From the Experts', Roots, Double Dates, and others.
What's inside this date book?
The following components illustrate the reasons Adventures from Scratch topped our list of date books for couples:
50+ Hidden Challenges

Adventures from Scratch: Date Edition packs in over 50 thrilling adventures, so you don't have to worry about running out any time soon. Each challenge is hidden, so you'll need to scratch off a page to reveal its contents. For those of you who don't like surprises, there's a key that gives you a preview of what you can expect.
Bonus Challenges

Aside from the 50+ hidden challenges, the book features bonus challenges to up the ante while you're on your adventures. Bonus challenges are a perfect way to crank things up a notch when you're enjoying an adventure book challenge!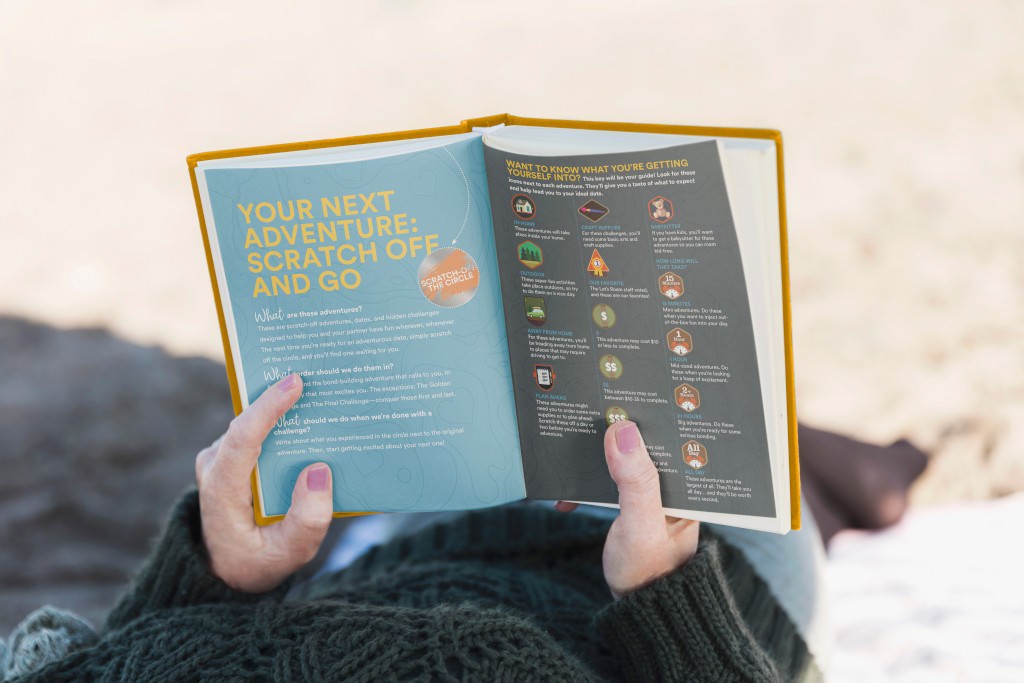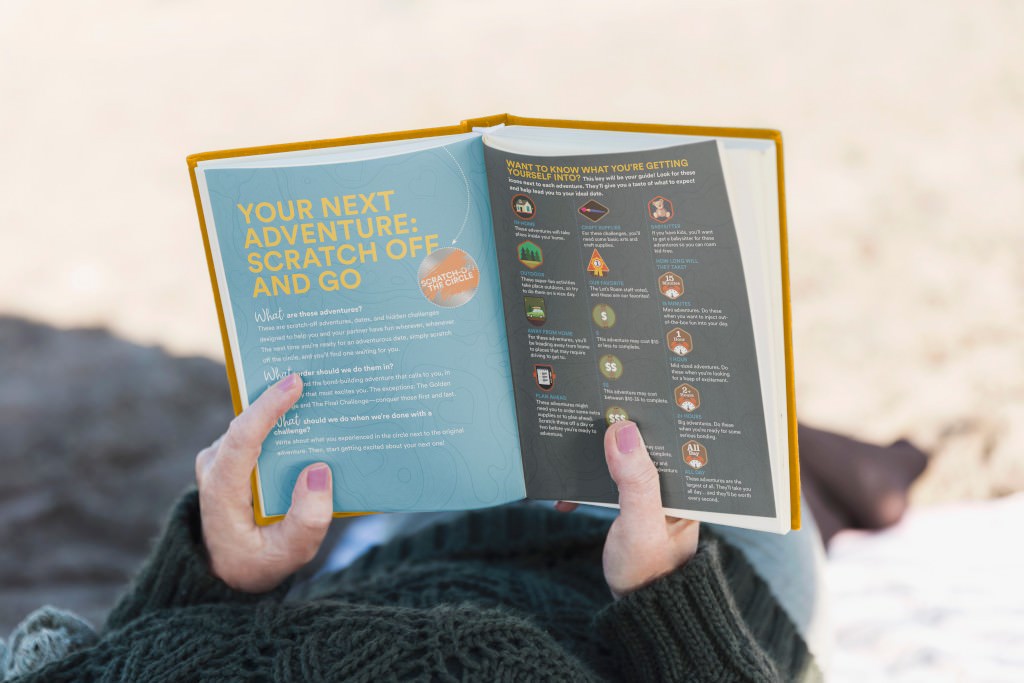 But wait! There's more…
Tear-Out Love Notes

Wouldn't you love having little snippets to read from your partner when you least expect it? Spontaneity is a critical element of romance. Tear out a note from the adventure book on a special day or just a random day when inspiration hits. Put down a few heartfelt, warm words for your partner to read—and keenly await a wide smile that brightens up the room.
On-the-Go Adventures

On-the-go adventures list things to do, find, or ask each other. These quick romance-sparking adventures can be done just about anytime, anywhere, so you always have an adventure at your fingertips!
Cascading Conversations

Cascading Conversations offer questions intended to bring loved ones closer. Then, you can fill in the blanks of 'Our Adventure Story' to share and write your own modern-day fairytale.
Mailed Adventures

It's always fun to onboard other couples when you're prepping yourself for an adventurous weekend. The included tear-out postcards make it easy to invite other fun-loving couples and have them join you.
In summary…
Adventures from Scratch: Date Edition is one of those date books for couples who need a little push or those who feel like they've done it all. It makes a great gift, too!
Keys are available to let you know the duration of the challenge, whether the challenge is in-house or outdoors, and if you will require any additional supplies to complete the challenge. Don't worry about scratching off an outdoor challenge when it's raining!
Perhaps the best part is that, with a little creativity, these challenges can be modified for suitability. You can modify the challenges according to your budget and comfort level.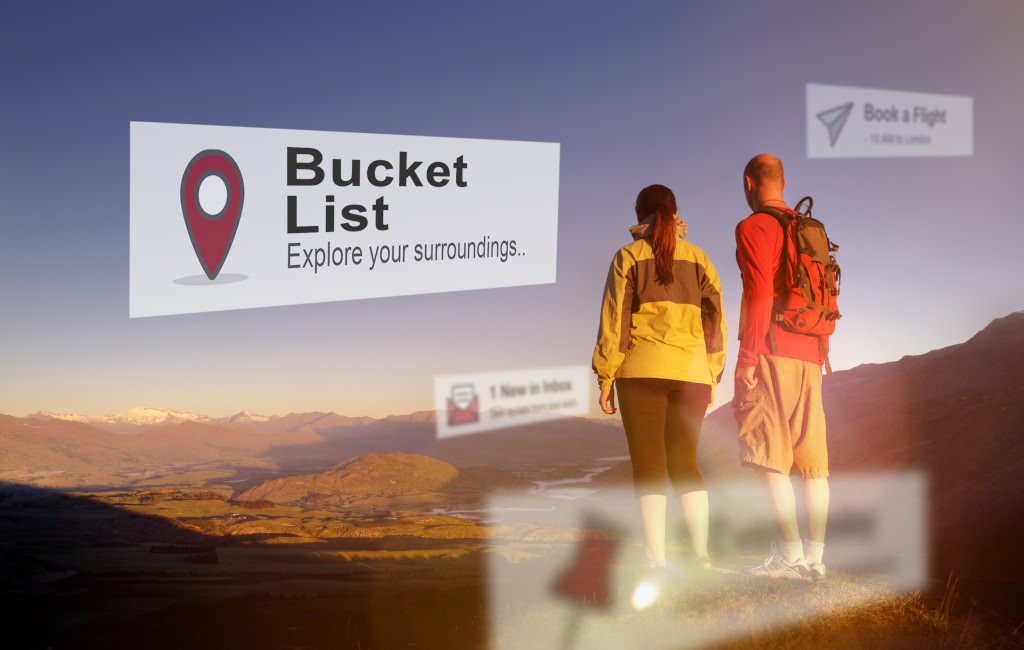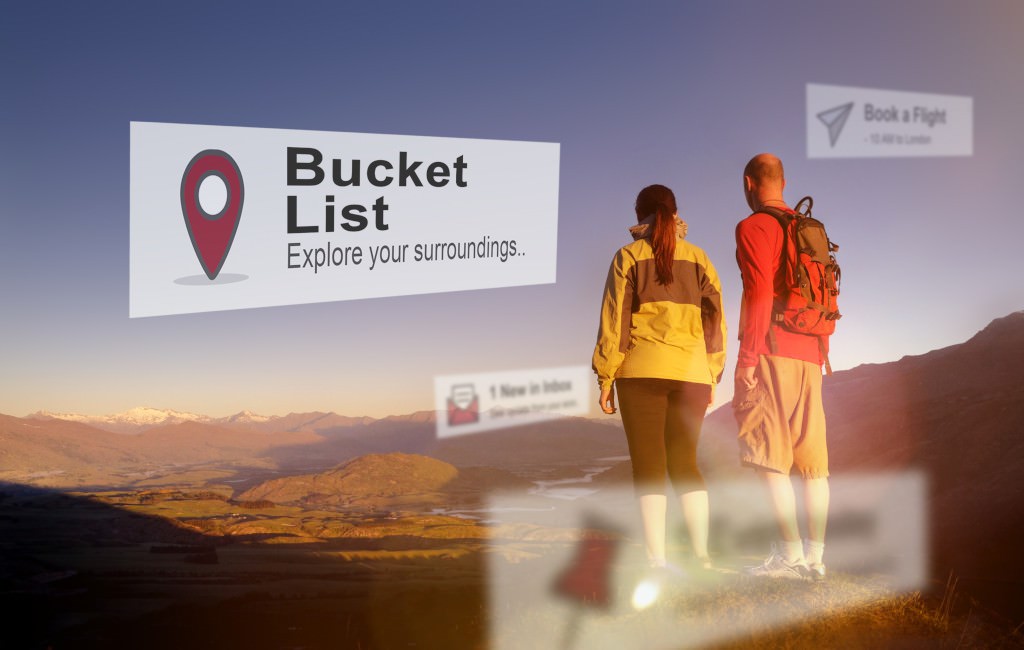 2. Our Bucket List Adventures: A Journal for Couples
This selection is all about journaling as you check items off your proverbial dating bucket list. The theme is a common one for activity books these days, made popular by the 2007 film, The Bucket List, but the design of the book makes it stand out from the pack. It's definitely one of the best date books for couples, so it deserves a mention at #2 on the list.
If you're unfamiliar, a "bucket list" is a list of achievements a person hopes to complete during a lifetime. That concept is transformed into a list of dating goals a couple hopes to share throughout their relationship. From start to finish, Our Bucket List Adventures: A Journal for Couples guides partners through making their list and setting out to check off its items. Journaling tools help to document the memories.
What's inside this date book?
Brainstorm 50 Bucket List Items

Couples will need to come up with 50 unique bucket list goals that they are eager to complete together. The book has an activity section where you and your partner can brainstorm ideas before they finally make it to your bucket list. While this is great, it is time-consuming. Those with busy schedules will want to budget date time for the list itself. There's something to do on that rainy day!
Journal Your Adventure Memories

Whenever you go on adventures together, journal your memories so you can revisit them for years to come.
Add a Favorite Photo

Add your favorite photo to each item, so you can recount the sights and feelings as you review the items you've already checked off your list.
5 Engaging Questions

After you journal your bucket list experience, these questions serve as conversation starters so couples can reflect on the valuable time they shared during the adventure.
Need more reasons?
Bucket list ideas

This book requires couples to come up with their "bucket list" adventures, unlike the Adventures from Scratch book that does all the work for you. However, the book offers 115 bucket list ideas, so if you're blanking out, you can refer to these and add some of them to your bucket list.
A Bucket List Finder page

When you accomplish goals from your bucket list and journalize them, use the Bucket List Finder page so you can easily reference them and organize your adventures neatly.
50 Bucket list journaling pages

These are the pages where you will journal your experiences as you complete them.
In summary…
The authors, Ashley and Marcus Kusi, do a fine job at producing an easy-to-use couples' diary. Some reviewers complain that there aren't enough ideas to get the activities started, but if you've got the motivation, this book gives you the structure you need to record your adventures. As a bonus, you'll end up with a nice little keepsake!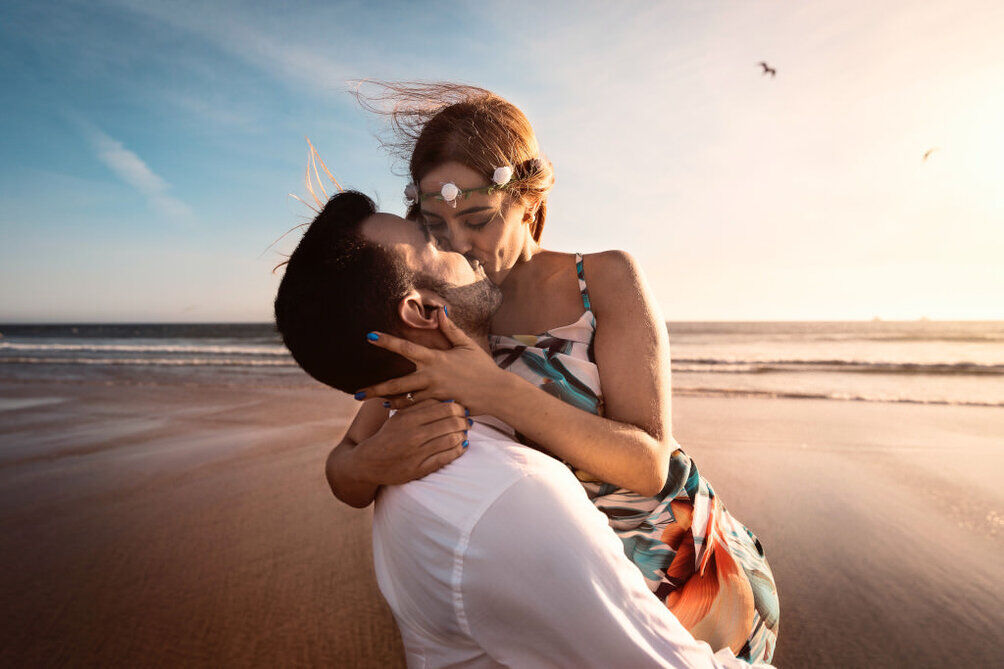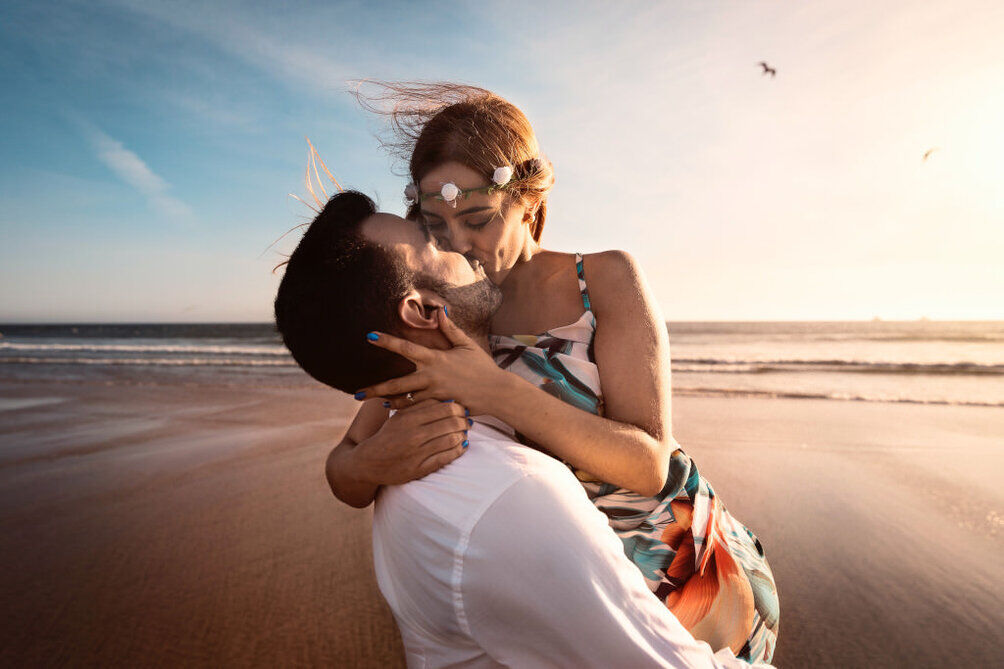 3. 175 Best Date Ideas
If you tried Our Bucket List Adventures: A Journal for Couples and struggled with putting together your list, consider this a possible companion. It's advertised as a book of endless alternatives to dinner and a movie and it delivers. It's been around for a while but continues to get positive reviews.
Many reviewers seem to think the dates are skewed for a younger crowd, but some of us are young at heart, so it's worth a look. Let's dive in!
What's inside this date book?
As promised, there are 175 suggestions for fun, quirky, and romantic outings with your special person.
Some dates are designed for individuals to connect intimately, as a couple, while others that promise to make you laugh.
Additionally, the author has provided extra pages to attach memories including movie stubs, scorecards, and photos. This section is called the "Smash Book" and is even explained in one of the first dates in the book. It includes a bucket list of its own and a place for notes, as well.
In summary…
Like most date books for couples, the introduction promises that the dates will make unforgettable memories. Alida Quittschreiber has certainly compiled a thorough and thoughtful list of ideas. Some readers find the suggestions too common. Still, for those of you who need recommendations to get started, it might be a welcome addition to your collection.
---
How do these date books for couples differ, in terms of what they offer?
The Adventures from Scratch: Date Edition is like an entree you buy from a fancy restaurant, with special ingredients prepared by a professional chef. Created by experts, it's unique and ready to be savored.
For couples who like spending time brainstorming ideas themselves, Our Bucket List Adventures: A Journal for Couples offers an opportunity to bond and customize activities suited to your liking. However, it does take a good chunk of time to come up with 50 challenges.
175 Best Date Ideas: The Ultimate Bucket List of Dates for Couples provides you with enough ideas to keep you busy for a while, but they might be geared for young couples and could be considered common or overdone.
That wraps up our review on the top date books for couples. Let's Roam's Adventures from Scratch: Date Edition easily comes out the winner with plenty of other goodies in addition to the 50+ hidden challenges in the book that have been carefully curated by experienced couples.
---
Frequently Asked Questions (FAQs)
What are the best types of date books for couples?
The best date books for couples are interactive. Top picks include scratch-off adventure books and interactive bucket lists. Look for books with a variety of indoor and outdoor ideas.
Which books contain the best ideas for dates?
These top date books for couples contain the most unique and interactive ideas. Additionally, they contain elements such as postcards, love notes, and prompts for conversation.
Which date book is the best gift option for couples?
Adventures from Scratch: Date Edition is a popular choice. Its unique adventures are refreshing. Additionally, the book is suitable for new couples or those who simply need fresh date ideas.