Ready or not, here comes adventure! Prepare for some excitement with your loved ones – our interactive adventure book challenges you to explore the unknown, embrace the spirit of adventure and make memories with your loved ones. Here's everything you need to know about Adventures From Scratch!
---
Top Adventure Book Challenges in Adventures From Scratch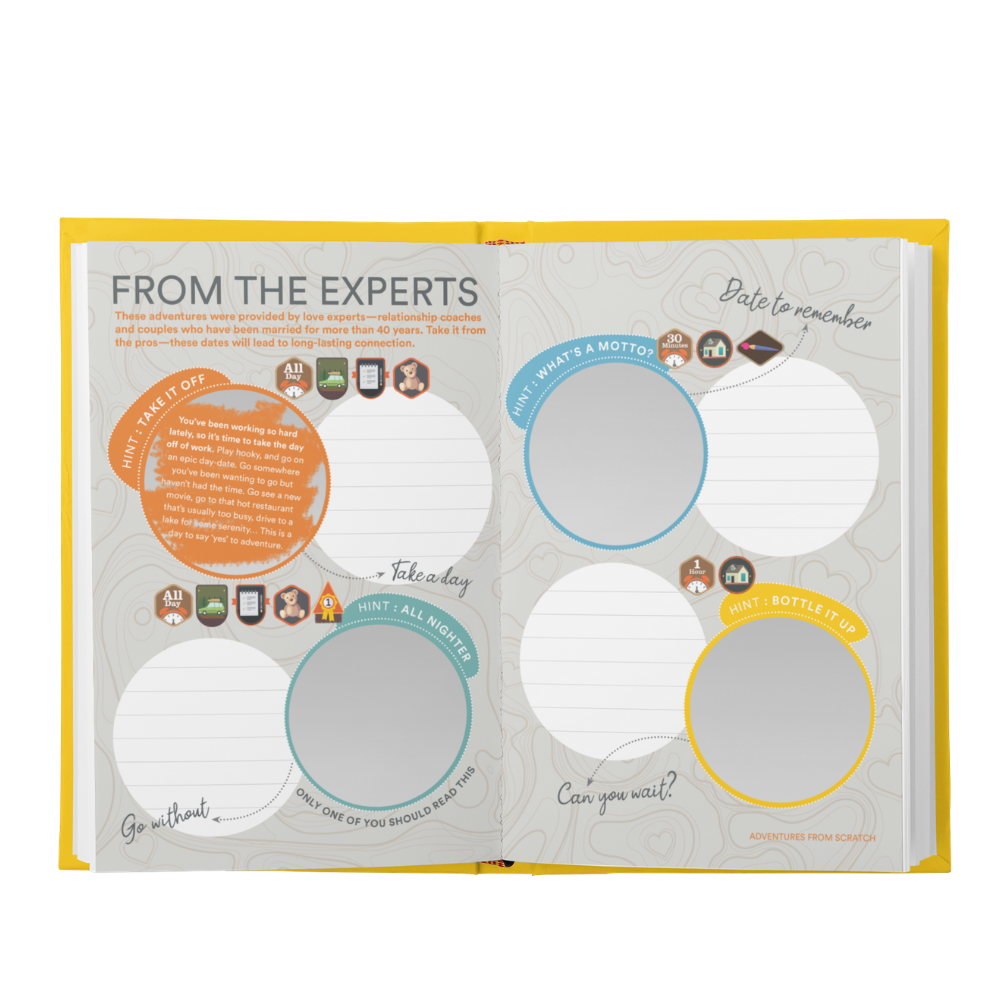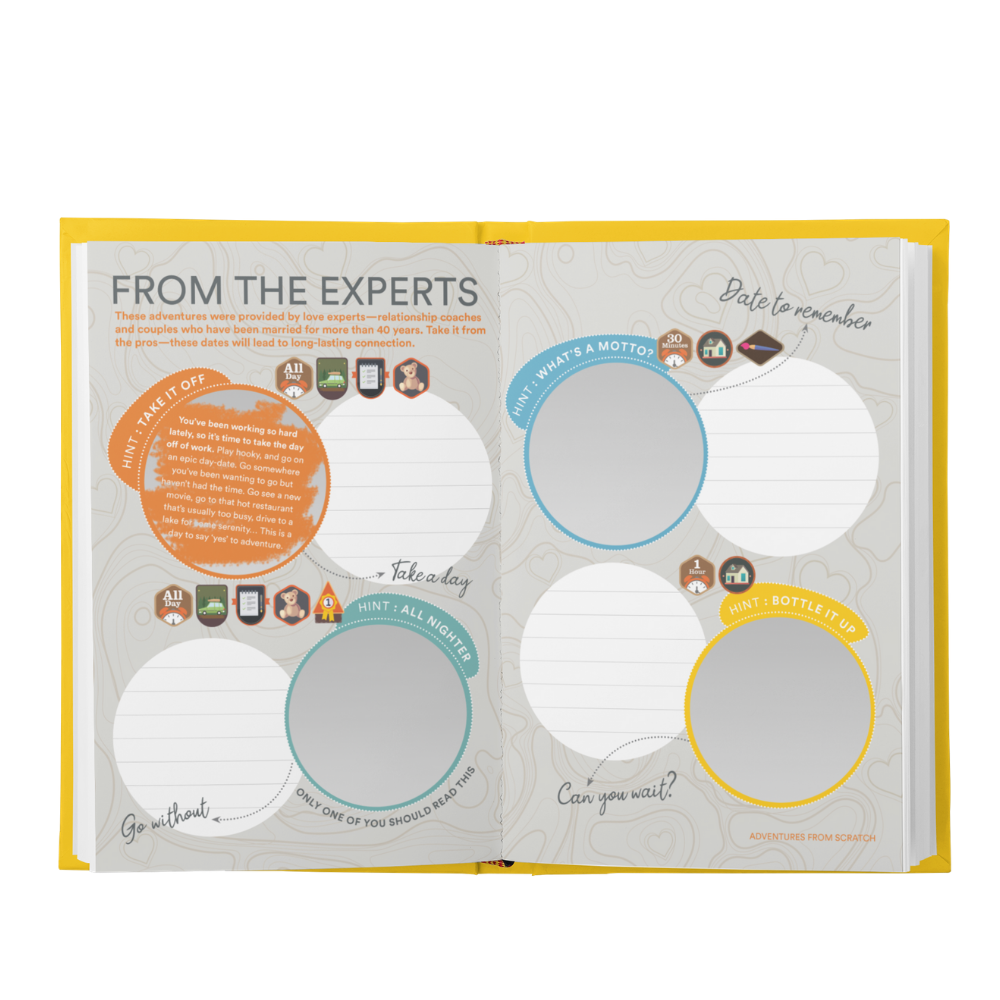 With this interactive book, you can transform any day into a thrilling adventure – carry the thrill and excitement of an adventure wherever you go!
1. Indoor Adventure Book Challenges
Who said you need to go on a vacation to feel adventurous? Sometimes, curling up at home is the best place to find adventure with your beau. Adventures From Scratch: Date Edition has a list of indoor challenges that will have you laughing and loving in no time. For instance, 'Come Here Often?' is an epic mixologist-themed activity to keep you in high spirits. Make new cocktails for your partner as you mix ingredients and decorate the glasses. Add special ingredients that your partner will love. While you're at it, why not make a funny version and add a twist (like soy sauce or vinegar) to prank your partner? The secret ingredient – a dash of love! When you're done, sip and speak with your significant other about why you chose each ingredient and what they mean to them.
If you're looking for indoor family activities, check out Adventures From Scratch and its indoor talent hunt challenge. For this at-home version of Family's Got Talent, get each member to show off a special skill – they can be anything, from singing, dancing, blowing bubbles, juggling, or even solving a Rubik's cube. Weird talents are welcome too! While every member performs, the other family members can be judges and give them points, and compliment their fancy skills.
2. Outdoor Adventure Book Challenges
When the sun's out and it's spring, step out with your partner for some outdoor fun! Adventures From Scratch has an epic list of outdoor activities, from a scavenger hunt to a zombie invasion. For example, check out Apocalypse, a zombie-themed adventure. A zombie apocalypse is imminent, so you must move out of your ASAP and carry only essential supplies. Be warned – you have only five minutes to pick your supplies. Rush out of your house, grab your S/O, and drive to a secure location. Spend an evening there, discuss your plans to live with the undead, and talk about why you chose certain things. Add an extra touch of adventure by attempting to cook with your minimal supplies – improvise, adapt, and overcome!
In the Family Edition of Adventures From Scratch, you can find engaging activities for parents and children alike. We love this outdoor picnic idea – get every member of your family to pitch in for an outdoor picnic by putting together a picnic basket. Each member must contribute an item to the basket, be it helping out with a meal, putting together a toy, picking the picnic blanket, or carrying water. Once you reach the picnic spot, lay the picnic as your children help out. Enjoy the calming outdoors, play some games, and talk about which famous personality (alive or dead, fictional or real) you'd want to go on a picnic with. Customize this activity and let your children write letters or notes to these personalities – let the creative juices flow!
---
Where To Use The Book
This book has a host of activities that you can use as you celebrate special days with your loved ones. They make great party events – for instance, pick an adventure from the Family Edition to play with your relatives and friends during a birthday party or a family lunch. You don't have to be bored of family gatherings anymore. Our Family Edition has been curated perfectly to engage children between the ages of 3 and 16. This means that the entire family can be included in every game – no one has to feel left out!
When it comes to the Date Edition, we've gone the extra mile to keep things fresh and interesting. Celebrate a special day, an anniversary, your weekly date night, or a random Thursday with our hilariously romantic activities. This book is a lovely way to connect with your partner in new ways and learn about each other. Get to know your partner in innovative ways as you declare your love for them, compete with them in friendly games, and share some special memories together!
---
Special Features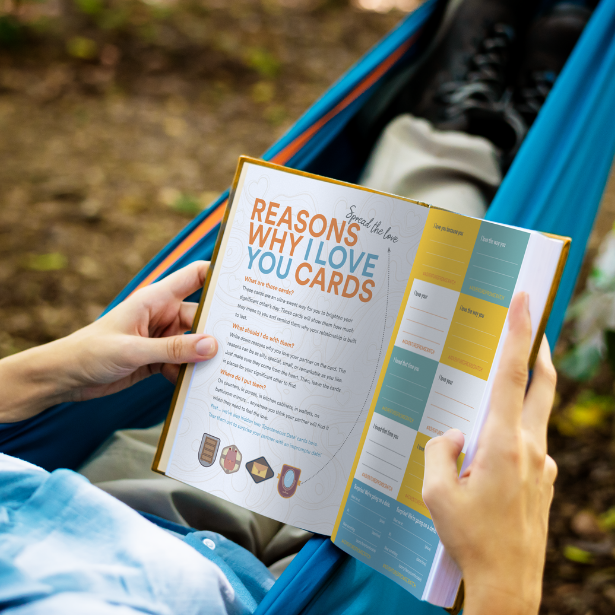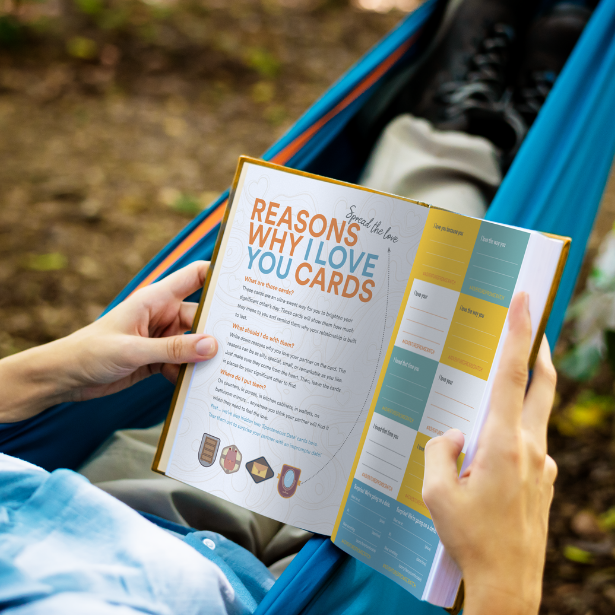 Our adventure book is packed with special features and gifts. Each book has a list of categories like 'Discover,' 'Create,' 'Spread Joy, 'Get Silly,' and 'Cook. Here's a run-down of the epic extra features of Adventures From Scratch!
1. On-the-go Cards
One of the things we love the most these adventure book challenges is how you can take it with you wherever you go. In case you don't want to carry the book everywhere, simply tear off an on-the-go card, and you're good to go! These cards have lists of things to do, things to find, things to see, and things to ask each other – your road trips will never be the same!
2. Family Edition Bonus Cards
The Family Edition has special pay-it-forward cards that are perfect to share with your loved ones – and even strangers. With these cards, you can share the gift of adventure with anyone you meet. These tear-out cards can be filled with just about any adventure you choose. Then, give these cards to your family, friends, or strangers you meet (you can also mail these cards to loved ones living out of state). Challenge your friends to funny, wholesome, and exciting adventures with these cards!
3. Date Night Bonus Cards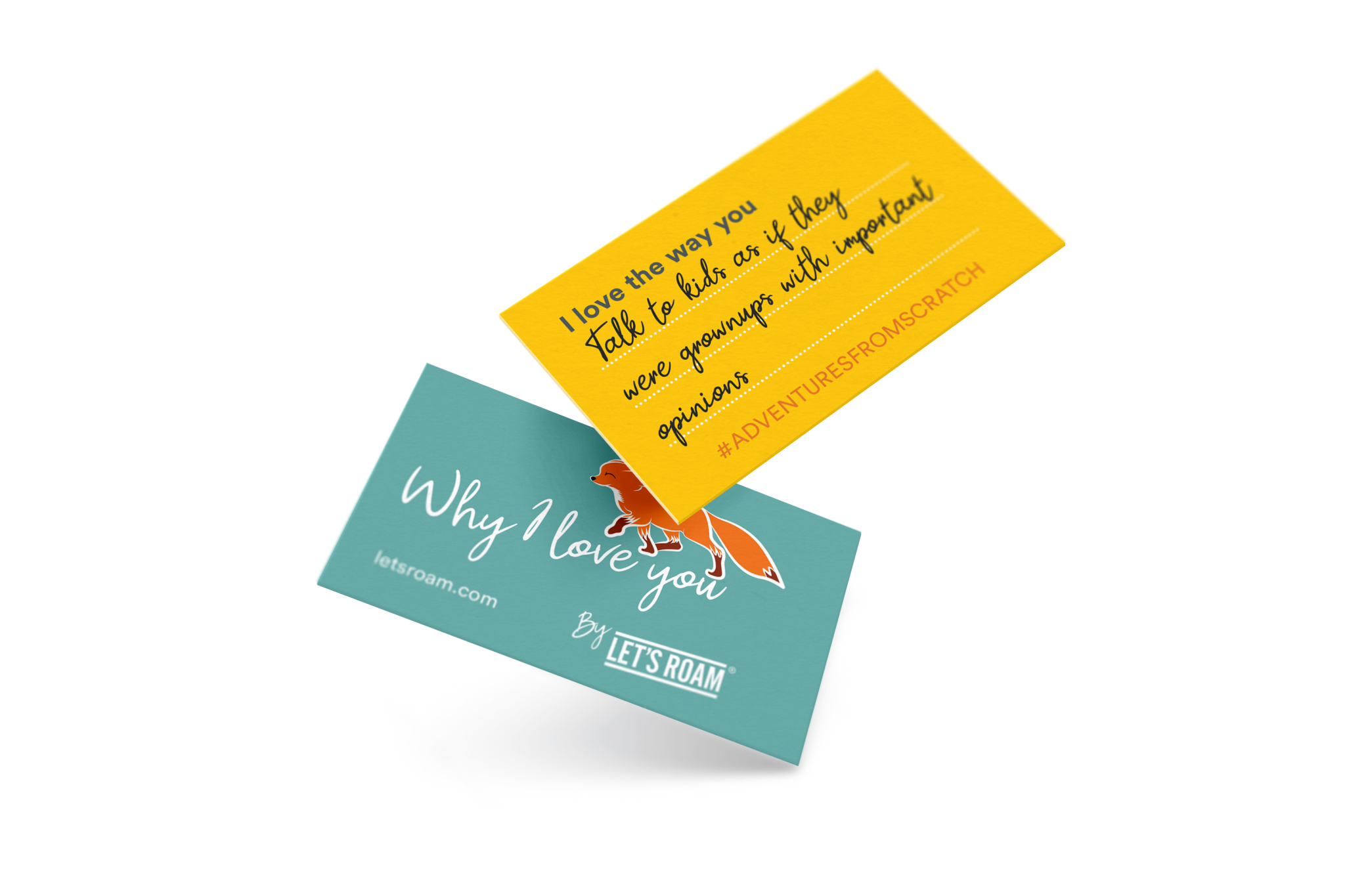 More often than not, you may not know how exactly to show your partner how much you appreciate them. This is where Adventures From Scratch can help. Our Date Edition has extra special features that will leave you and your partner feeling loved and cherished. The prompts cards are all you need to get the love flowing.
---
Reasons Why I Love You Cards
The 'Reasons Why I Love You' cards have a list of prompts that you can fill. These tear-out cards must be hand-written, which makes them a sweet gift to give your partner. Fill them out and leave them around the house where your partner can find them. In fact, you can leave the cards by your bedside, inside your partner's wallet, next to their lunch, or place them in their laptop bag – brighten their day with these adorable notes!
Cascading Conversations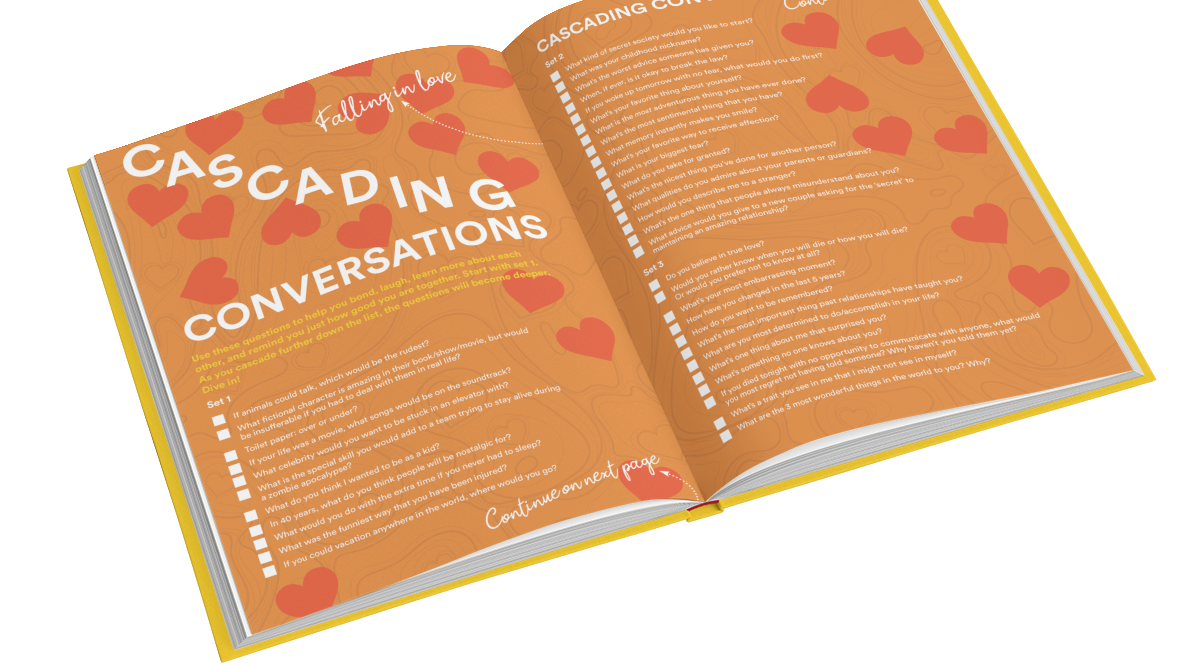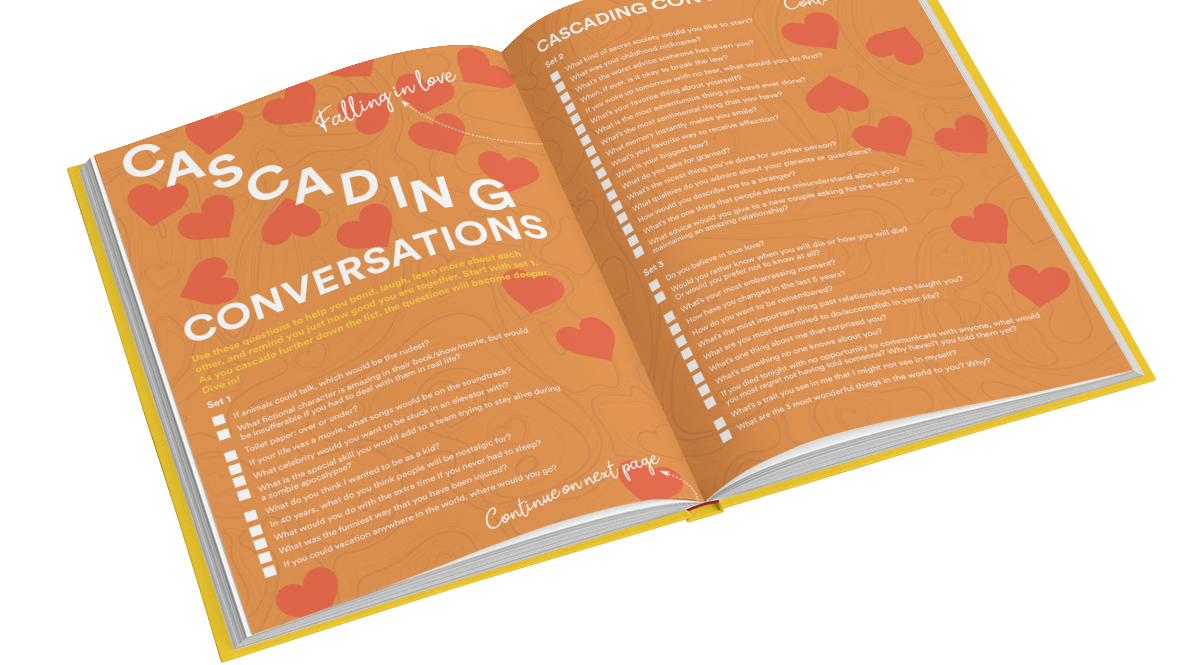 Use the 'Cascading Conversations' section when you want to have a heart-to-heart with your partner. Perfect for a lazy weekend at home, these cards have a long list of prompts and questions that you can ask your partner. Let the conversation flow as you fall in love with your partner all over again – these cards help you reconnect and spend some quality time with your significant other. We recommend switching off your devices, opening a bottle of wine, and curling up with your partner as you try this activity!
Our Adventurous Story
Mailed Adventures Cards
Let other couples join the fun with our Mailed Adventures cards. Challenge other couples you know to fun challenges so that you can play games, complete, and bag some bragging rights. Involve your friends in these adventures so you can have some fun together. Sharing is caring!
Adventure waits for no one! Add a dash of excitement and fun into practically any day with Adventures From Scratch. This is why this makes a great gift for your loved ones – and to yourself. Be it with your partner or your family, you can customize and improvise any event to suit your taste, budget, and comfort. This adventure book challenges you to get creative, get moving, and get questing!
---
Frequently Asked Questions
How do I use Adventures From Scratch?
Finding the right adventure in this book is easy as one-two-three! Simply pick a page and scratch away. Each adventure has a special key and note that shows you the approximate time you will need, the right location, and any additional supplies. Additionally, you can tweak any activity to suit your needs.
Why are there two editions of Adventures From Scratch?
We've curated the perfect adventures for each occasion – date night with your partner, and family fun with your kids. Our Family Edition has activities you can enjoy with kids between ages 3 and 16, while the Date Edition is full of romance and fun!
Can I take Adventures From Scratch outside?
Yes, you can take this book wherever you want! Our on-the-go cards are perfect for fun and excitement on the move!