As you move into your 40s, 50s, 60s, and beyond, it's common to find that pastimes you once found exciting no longer have the same appeal. As individuals, your tastes change. As couples, that impacts dating choices. There's no denying it's easy to fall into a routine you seemingly can't break out of, so what can be done to fix that?
Well, you're in luck! We've come up with over 30 creative date ideas and enticing activities for older couples to enjoy! These suggestions were selected because they introduce new adventures, reawaken excitement for things we used to love, and have the power to strengthen bonds between partners. Whether you're a couple who's giving love another chance or have been together for decades, we're confident that you'll find worthwhile ideas within this list!
---
Have You Tried Scratch-Off Adventures?
If you've ever scratched the coating off an instant lottery ticket, you know that little rush of adrenaline you feel when there's a possibility you'll win. The only drawback is that most of those tickets leave you disappointed. Scratch-off adventure books, on the other hand, give you a win on every page!
The activities in Adventures From Scratch: Date Edition were specially designed for couples. Experts in exploration and couples who have stood the test of time have compiled over 50 hidden challenges and they're all just waiting to be revealed. Some are simple and others push limits, but they will all help you to strengthen your bond.

With multiple categories and a handy key to help you decode some details about the experiences that lie within, you can't go wrong. Additionally, you'll find indoor and outdoor choices, as well as tear-out love notes and other connection-building elements. Why not give it a try?
---
Activities for Older Couples
If you're looking to be entertained for an afternoon, learn a new skill, or take up a new long-term hobby, you're sure to find something to tickle your fancy within this selection of 15 activities for older couples. These pursuits run the gamut from educational to exciting and hit on tons of emotions in between. They'll help you to connect as a couple and deepen the bond you already have.
Activities for Couples Who Want to Broaden Their Horizons
Take dance lessons.
Even if you feel like you have two left feet, you've probably felt the urge to move when a good beat starts pumping. Dancing is within us! It doesn't matter if you move together like Johnny and Baby in Dirty Dancing or you only let loose in your room—lessons on how to move and groove could be exactly what you need.
Don't knock it before you've tried it. At least consider it! Dancing produces endorphins and endorphins make you happy!
Enroll in cooking classes.
There are so many quotes about food and love …

"Food is symbolic of love when words are inadequate." — Alan D. Wolfelt
"Cooking is love made visible." — Unknown
"The people who give you their food give you their heart." — Cesar Chavez
Food unites people in ways little else can. In fact, research on cooking indicates that it's "one of the top activities couples can do to strengthen their relationship" Even if you take just a few lessons to learn the basics, it will be time well spent. Worst case scenario, if you really cannot cook, you'll have a few laughs together!
Learn about photography.
There are a lot of photography tutorials out there but, for most, they just don't have the same effect as taking a class or workshop. Why not ask your significant other to attend with you and make it a couple's endeavor? Learn to capture pics like the pros while getting in some time with your mate.
Once you've conquered the best ways to photograph human subjects, spend an afternoon playing dress-up and having a photoshoot. Then, pick the best portraits you've taken of each other, as well as one selfie featuring both of you, and frame it as a keepsake.
Fun Activities for Older Couples
Go cycling.
If you haven't ridden a bike since you were a kid, you're not alone. Many adults have forgotten the joys of cycling down the road, feet on the pedals and (sometimes) hands in the air—"look, ma! No hands!" Whenever we need to try to do something we haven't done in a while, someone inevitably says, "don't worry! it's just like riding a bike." So it can't be that difficult. Right?
Even if you don't currently own a bike, you can probably find a place to rent one for an afternoon. If you want to get really daring, try a tandem bike or see if there's a party bike in the area. If a pub on a bike sounds like your thing, rent one and invite some other couples to join you. It'll be a blast!
Try geocaching.
Geocaching originated in Oregon around the turn of the millennium. If you're unfamiliar, don't worry. There is a lot of info online to help you get started. Basically, it's an activity that combines geography and technology with elements of a treasure hunt.
Currently, there are over 3 million geocaches worldwide and they're all waiting to be found. The object of geocaching is to follow little clues (and a GPS) until you find the big payoff—the cache.
Geocaching is fun for people of all ages! One woman, Ons Oma, started geocaching at age 87! You're never too old to take up a new hobby.
Go on a scavenger hunt.
Scavenger hunts are timeless! And we should know because, along with producing Adventures from Scratch books, we curate custom and public hunts for people around the globe.
Searching for the next stop, completing challenges, tackling trivia, and taking photos is a fun way to spend a day. Along the way, you'll get to talk and laugh with one another. When you finish, you'll feel accomplished. Sounds perfect, right?
Check out the city scavenger hunt locations, download the Let's Roam app, and try it next time you're at a loss for something to do. You won't regret it!
Activities for Nature-Loving Couples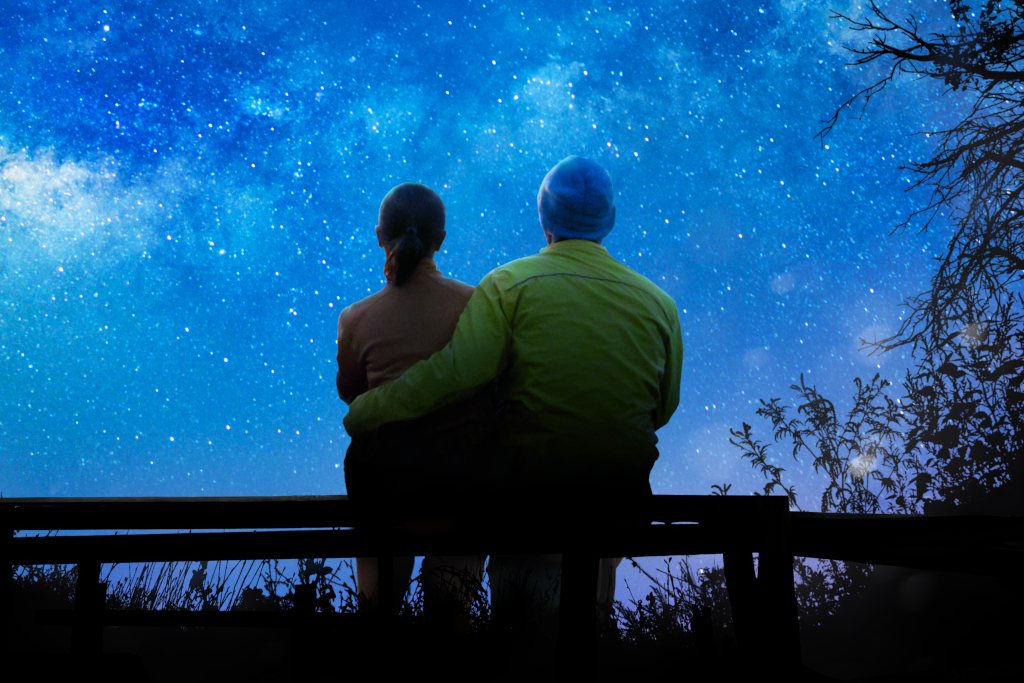 Gaze at the stars.
It's no secret that stargazing is romantic. Stars are romantic. Just the idea that there's a whole universe out there and things beyond our imagination is enough to make you tingle!
If you'd like to learn more about the universe, download a stargazing app or consider auditing an astronomy class at a local university. If there's a planetarium nearby, we highly recommend visiting.
Relaxing under a starry sky brings with it a sense of tranquility. Seeing stars with your significant other is the epitome of quality time. You can sit on a bench or a blanket, identify constellations, and talk about your hopes and dreams. Don't forget to wish on a falling star, if you see one!
Take up birdwatching.
There's a misconception by some that birdwatching can be a little boring. We disagree. The bird world is amazing and very interesting if you take time to watch how these little aviators interact, build their homes, care for their young, and get by from day to day. They're intelligent, inquisitive, and talkative, and they all have personalities that seem almost larger than them!
What has made birdwatching even better these days is the invention of apps. Merlin, an app you can load on your phone, is produced by the renowned Cornell Lab of Ornithology. It allows you to add extension packs that are designed to help you identify birds in your particular neck of the woods.
There are many more birding apps to help you identify birds by their features and calls. Take a peek, make yourselves a list of the birds you'd most want to spot, and keep track of your adventures? You could even engage in some friendly competition to see who can identify the most birds!
Go on a nature walk.
A nature walk can be a marvelous activity for couples. It gives you time out in the fresh air, seeing and smelling all of the wonders that we sometimes miss during the normal day-to-day. Talk about taking time to smell the roses!
One of the benefits is that there is little preparation needed for a simple walk. Of course, you can make things a little more complicated if you choose, by traveling off the beaten path or graduating to rock climbing. No matter what you choose, you can't go wrong. Just be sure to take proper safety precautions when heading into unknown (or possibly rough) territory.
While you're traversing the nearest forest, find some stones that stand out to you. Take them home, paint them and add some inspirational messages with permanent markers. Then, when you head back out on the trails, leave them along your way. As others come along, they'll find your little treasures and it will brighten their days!
Activities for Older Couples Who Love Sports
Get specialized sports training.
Were you a "jock" in high school or did you play sports on the side? If if you've gotten out of the sporting habit (and perhaps the sporting shape), it's never too late to test your abilities. Although you might not be as agile as you used to be, don't let that deter you.
Most community centers, YMCAs, and gyms offer some form of sporting instruction for adults. Look into the possibilities and pick a sport to try together. Tennis, golf, and even dodgeball are popular co-ed options.
When it comes to playing, if one of you is significantly better, don't worry. That just means that you can spend time in private training sessions at home or the nearest park, between classes.
Join a league.
League sports are a great way to get some physical activity while spending time together and meeting new people. There are many available activities for seniors in communities all over the world. (Typically, in sports, senior leagues are for adults who are beyond the age of college and professional sports recruitment and not just 65+.)
Look into work leagues, as well. places of employment offer softball and basketball leagues that include friendly scrimmages against other local companies. Some are partner-friendly.
If you can't find a local league, think about starting one. Those who play together stay together!
Adopt a team.
If you really feel like you're past your prime, adopting a team could be an option. Look into youth sports in the area and see if anyone is in need of coaching or even a team "mom and pop."
Most organized sports organizations will welcome help, as long as you meet specific criteria and can pass a background check. You can help haul equipment, run the snack bar, paint lines on the field, and handle other tasks that need to be taken care of. In exchange, you get to watch and help mentor up-and-coming local athletes.
Show those kids how a combination of camaraderie, communication skills, and "teamwork makes the dream work." Just leave out the part about a vision becoming a nightmare when the leader has a big dream and a bad team!
Activities for Couples Who Want to Give Back
Beautify your community.
Have you looked around lately? While you might not spot litter and other eyesores around you at all times, it's out there. One way to get the most out of your time together is to spend it beautifying the place you call home.
Many areas allow individuals, families, and businesses to "adopt a highway" or a park. You could spend one day every month or so picking up trash, cleaning debris, or working with a mural organization to paint walls in the area.
Read to hospital or hospice patients.
Although the pandemic has rocked our world, restrictions are beginning to lift and there are a lot of patients out there who are desperately in need of companionship.
Contact some hospitals—including children's centers, veterans' hospitals, nursing homes, and other medical centers—and see if you can read to some of the people who don't have family or whose families need breaks every once in a while. If not reading, there are many other ways you can bring some happiness into the lives of people who need other people.
Volunteer with animals.
People aren't the only ones who can use a hand. If you and your partner are animal lovers, find a sanctuary or rescue in your region and contact them to see what they can use. Most centers and farms can always use a hand with feedings, cleanings, tour guiding, and other jobs that keep these places in operation.
Even if you're a little intimidated at the thought of working directly with animals, there are often programs to collect expired or damaged produce from markets and deliver it to animals. There are also organizations that specialize in rescue transports. The Bunderground Railroad is one such non-profit organization and they have saved thousands of critters who needed to be taken from shelters to new foster and forever homes. Each person takes a "leg" of the trip and you simply drive from point A to point B. You get to choose how far you'll drive and each excursion is like a mini road trip for a good cause.
Additionally, several state and county organizations have training programs to facilitate the process of people becoming certified in wildlife rehabilitation. All of these avenues of volunteerism will enable you and yours to share in the joy of rescue!
---
Creative Date Ideas for Older Couples
From time to time, most couples run out of new and interesting ways to make the most out of their time together. We've got 18 fun-filled, romantic, and creative date night ideas and day trip suggestions that we hope will help you reignite that spark or keep those heart fires burning.
Nostalgic Dates
Visit your hometown(s).
If you and/or your mate have moved away from where you grew up, set aside a day or two—or a weekend or two—and travel back to the place you once called home. This is an especially good activity for older couples who met a little later in life or just don't know a lot about each other's pasts.
Even if you grew up together, revisit some of your favorite spots, catch up with old friends, and create your own mini-reunion. If you didn't grow up together, this experience offers the perfect opportunity to share a little about where you came from. Drag out that old scrapbook and spend an evening perusing yearbooks and other memorabilia from your childhood.
Recreate your first date.
You might be able to do this along with the first item on our list if your first date was in your hometown!
Try to recreate, as best you can, the very first date you and your significant other shared. If the location is inaccessible to you, do your best to find one that's similar. Make it even more fun by seeking out a similar outfit. If you're gutsy, you could even sport the same hairstyle!
While you're savoring your step back in time, see if you can find a way to leave a little note for a young couple who might happen upon the same spot. Let them know you're leaving a little magic behind for them, too!
Go on a decade-themed date.
This is one of our favorite date activities for couples! It can be accomplished no matter how old you are or which era you grew up in. Pick a decade that means something to you and plan activities that fit the theme of that time period. You might even want to pick one decade, have your partner pick another, and keep the details secret until you're actually on the dates.
For example, if you go on a 60s date, look for a diner in the area and have some fries and shakes. Play songs on the jukebox and talk about old times. Then, head off to a drive-in theater. No drive-ins left? No worries! Create a DIY drive-in in your driveway or yard with a projection screen. Watch a classic flick and dive into some snacks. It's sure to be a gas!
If you're looking to create the vibe of the 70s date, look no further than a bowling alley. Extra props to you if you can find a disco! Group dates were a big thing back then, so invite some friends to tag along if you'd like. When you're done bowling or dancing, come back to your own home, put an album on the record player (or hunt down an 8-track and player at the local Salvation Army). Mix up some Harvey Wallbangers and play card games like Pinochle. It'll be groovy!
For you 80s fans, how about a trip to an arcade to play some original video games or replicas? There are still some out there! If you can't find one, consider a night at a nearby roller rink. It might not be as easy to skate as it was the last time you did it, but you'll have a totally awesome time! Don't forget to make a "mixtape" for the ride.
Exploration Dates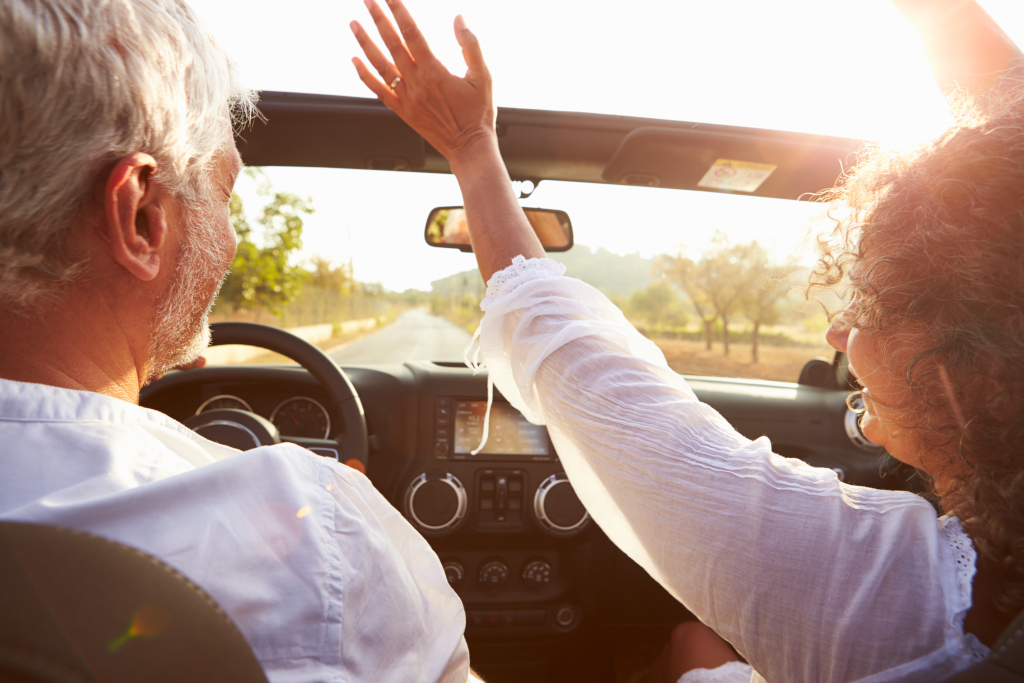 Take a road trip.
There's nothing like a road trip! Even if you can't go long distance, take a day drive with your favorite co-pilot. You might even want to rent your dream car for the date. How cool would that be?
Prepare the perfect playlist and make it a rule to stop only at your favorite places or, better yet, all new places. Enjoy the adventure on the open road as you listen to tunes and chat with your other half. Hit up some flea markets or little shops and find a quaint restaurant for an intimate meal.
If you make it a day trip, see the sun rise from one spot and set in another. Don't forget to take tons of pics!
Go on a helicopter tour.
Have you ever gone up in a helicopter? It can be amazing! Helicopter tours aren't just for couples on dating shows. Look up a reputable tour company in your area and hook yourselves up with a sightseeing excursion.
You'll see your city, or a region of your choice, like never before. Most helicopters fly at up to 10,000 feet above ground level, but tour helicopters tend to fly quite a bit lower.
You can snap photos from the air, so you're going to have an ideal opportunity to put your photography skills to the test.
See the sights from a hot air balloon.
We have another sky-high suggestion for you explorers—how about a hot air balloon ride? This is one of those activities that couples often think about but never get around to. Soar above your chosen region in a big, bright, beautiful balloon.
Most tourist balloons fly within two hours after the sun rises or two hours before sunset and rides generally take approximately an hour. You'll have plenty of time to add a meal or cocktails afterward so you can discuss the literal highs and lows of your ride in the sky.
Up, up, and away!
Dining Dates
Have a picnic.
It doesn't get much sweeter than a wholesome picnic, but life so often seems to get in the way. Well, it's about time you go on one, don't you think?
Pack up some picnic-worthy eats, grab a blanket, and go. If eating on the ground doesn't work for you, find a picnic table at a nearby park. The location doesn't matter as much as the company and the sentiments, so the whole point is that you'll be having a casual meal with your mate somewhere outdoors.
If you can walk to your spot or take an Uber, pack yourselves a bottle of wine in that box or basket. When you're done eating, lie in the grass for a spell and look up at the clouds. Talk about the shapes you see and laugh the afternoon away.
Make dinner and dessert for each other.
Remember those cooking lessons? They would certainly come in handy for this date idea. Make a delectable meal for each other—completely homemade, start to finish.
Perhaps you can make dinner and your partner dessert, and vice versa on another evening. Even if you can only make something simple, it's the thought that counts. The real highlight of this date is the time together.
After the meal, make your way to the living room, put on some Netflix, and relax on the sofa under a cozy blanket.
Try new cuisine.
Have you ever wanted to try a type of cuisine but never got around to it? This is your chance.
Open yourself up to the possibilities of different foods from across the globe. Be daring and try a chef's choice or do some research and determine exactly what you might like. Either way, you're bound to have a memorable experience.
Experience Dates
Brave a bar crawl, take a brewery tour, or go wine tasting.
Do you often indulge by knocking back a few brews or consider yourself a wine connoisseur? This date idea is all about the alcohol—and the company, of course. If beer o'clock is your favorite time of day, book yourselves a pub crawl or brewery tour and discover more about the suds in your city. If you're more into a little vino, find a nearby vineyard or look up a local sommelier and swish some samples.
If you opt for a pub crawl, or even if the night's still young after a day of wine tasting, end the date with a little karaoke. Serenade each other or perform a duet. Sing your hearts out!
Attend a concert or festival.
Even if—especially if—your concert days were drastically diminished after college, you're never too old for a concert or festival. Live music is for people of all ages. Enjoy it!
Find out when one of your favorite bands will be performing in the area and get out there and support the artists. The pandemic has been rough on the entertainment industry, so as soon as tickets start selling again, get ready to snag some front-row seats.
Appreciate some art.
There are so many ways to see art: in a gallery or museum, at a private exhibit, or simply while walking down a city street. Some cities have entire festivals dedicated to the works of local artists and artisans. Find out where you can see the types of works you like and make a date of it.
For starters, Let's Roam offers art walks in several cities. These app-guided mural hunts allow you and yours to stroll at your pace, through a designated area, and see selected publicly accessible art. While you explore, you'll be presented with little tidbits of info and prompted with social media share-worthy photo ops!
Rewarding Dates
Pay good deeds forward.
Have you ever thought about the times that you were in need and a stranger helped you out? This great date idea gives you a chance to pay it forward.
Pick a few ways that you might help others and set out to do them. Take umbrellas out to people caught by surprise on a rainy day. Pay for someone's coffee in the drive-thru. There are so many little things you can do! You might even spend a few hours giving random compliments to passersby.
These experiences come up randomly in our lives, but designating a "pay it forward" day every once in a while benefits others, not to mention the feeling we get from spreading cheer and goodwill.
Play with puppies!
Did you know that most shelters will let you take the dogs out for walks and playtime? It's true. You and your significant other can offer to volunteer to take the doggos out for some fresh air and sunshine.
Contact local organizations and see when and where you might be able to do this and you'll make some cute canines very happy. It'll probably bring a smile to your face, too.
Just don't blame us if one steals your heart.
Help make or serve a meal at a soup kitchen.
Soup kitchens and other charitable meal services are often in need of volunteers to help prepare, serve, and clean up after meals. Share your time and some cheer with the good people who come for a bite to eat and maybe a little companionship.
So many people are struggling right now, so it's a great time to get involved. Even if you can't make it to a meal service, there are other odd jobs and donation needs you might be able to assist with.
Relaxing Dates
Learn to meditate.
Meditation aids in clearing clutter from the mind and getting more in tune with your body and your mind. It can also help you to be more open to each other.
You can use an app like Insight Timer, Calm, or Headspace to meditate at home or seek out a guided meditation in your area. Guided meditations make meditating simple for beginners or anyone who needs a little push in the right direction.
Afterward, take a stroll—perhaps a nature walk. Discuss your experiences or talk about anything you discovered during your session.
Dedicate a day to wellness!
This is perfect for an early date! Wake up with a little yoga. Even if you're not very flexible, restorative yoga can be relaxing, healing, and rejuvenating. When using restorative yoga, you hold poses with the aid of pillows or other props. It's quite grounding and helps to relieve aches and pains. Stretch your limbs and mentally center yourselves. Who knows? You might like it so much that it becomes a new daily practice.
Next, head to a spa for a relaxing couples massage. For an extra touch of romance, try holding hands while the therapists work their magic. Follow up with some time in the sauna, to release toxins, and take a cool bath or shower to wash them away.
Finally, hydrate and have a light lunch to nourish your bodies. It can be fun to splurge where food is concerned, but it's refreshing to devote a day to delectable, fresh, nutritious meals. This date is sure to leave you centered and ready to take on anything else the day has in store for the two of you.
Have a "stay in bed day (without any guilt).
Sometimes, you don't even have to leave your own home (or your own bed) to do something different. When was the last time you gave yourselves permission to just stay in bed?
You can stay in your PJs, watch movies, or play board games. Order your favorite meal or snacks. Give in to your guilty pleasures.
When evening comes, share a bottle of wine. Talk … or spice things up, if you'd like! Just be sure to fully enjoy this day detached from the outside world. It's all about the two of you.
---
Final Thoughts
At any age, there are inevitably times that you fall into patterns. Those "ruts" seem to happen every few years and they can be difficult to overcome. Luckily, with the experts at Let's Roam at your service, you should be able to break the cycle! Our guides are here to help you plan ways to beat the doldrums any day of the week, whether you want to head out on the town or stay in for a game night. With this article at your fingertips and Adventures from Scratch just a couple of clicks away, you should be off to a great start!
---
Frequently Asked Questions
What are some activities for older couples to add to their dating bucket list?
This list of date ideas and activities for older couples has many suggestions worthy of a dating bucket list, including a hot air balloon ride, road trips in a dream car, and paying good deeds forward.
What is the most intimate thing an older couple can do on a date?
Intimate activities for older couples include sharing hometown visits, recreating their first date, enjoying wellness activities together, or just staying in bed for an entire day (without guilt).